Brandon Truaxe, Founder of Deciem Skin Care Company, Is Dead At 40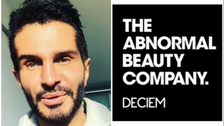 Brandon Truaxe, the former CEO and founder of the skin care company Deciem, has died at age 40.
An executive at the company confirmed Truaxe's death in an email to Vox, which also obtained the email sent by acting CEO Nicola Kilner to Deciem's staff.
"I can't believe I am typing these words. Brandon has passed away over the weekend. Heartbroken doesn't come close to how I, and how I know many of you will be feeling," read the email, which also indicated that the company's "offices, warehouses, factories and stores" would all be closed Monday to "take the time to cry with sadness, smile at the good times we had, reflect on what his genius built and hug your loved ones that little harder."
A spokesperson for the Estée Lauder Cos., a minority investor in Deciem, told HuffPost: "Brandon Truaxe was a true genius, and we are incredibly saddened by the news of his passing. As the visionary behind Deciem, he positively impacted millions of people around the world with his creativity, brilliance and innovation. This is a profound loss for us all, and our hearts are with Nicola Kilner and the entire Deciem family."
Representatives of Deciem did not immediately respond to HuffPost's request for comment, but they did post a heartfelt message about Truaxe on their Instagram page.
"Thank you for every laugh, every learning and every moment of your genius. Whilst we can't imagine a world without you, we promise to take care of each other and will work hard to continue your vision. May you finally be at peace. Love, (forever) your DECIEM," they wrote.
The Toronto-based company, nicknamed "The Abnormal Beauty Company," was called Deciem after Truaxe's intention to launch 10 lines under the brand's umbrella, though the brand has now exceeded that. Arguably its most famous line, The Ordinary, has gone on to achieve near-cult status for its affordable prices and ubiquity. The line is currently sold at Sephora.
As for Truaxe, he has had a multitude of highs and lows with the company. On the heels of a near-rave review in The New Yorker in early 2018, Truaxe began to appear erratic on social media and use the company's pages to post bizarre messages and videos. By the end of the year, Estée Lauder took legal action against him, and Truaxe was ousted by a judge as CEO. Kilner has been the acting CEO ever since. Additionally, Truaxe was issued a restraining order by several executives at Estée Lauder.
While the cause of Truaxe's death is currently unknown, a report published in Canada's Financial Post in December 2018 indicated that he'd been previously hospitalized for mental health issues several times and had problems with drug use. 
The response on social media has been widespread, as many fans of his skin care brand mourn his death:
This article has been updated with comment from Estée Lauder Cos. and a message posted by Deciem.
Ontario's new automated speed enforcement explained
(NC) To wage the war against speeding, many municipalities across Ontario have turned to automated speed enforcement. Most recently introduced in Toronto, speed cameras are a high-tech solution to reduce speeding and are considered one of the most effective ways to create safer roads and save lives.  
Recognizing police officers cannot catch all speeders, these cameras fill the gap, providing monitoring in specific locations around the clock. When a car's speed is even one kilometre over the posted amount, it will take a picture of the offending vehicle's license plate, using the captured photo as indisputable evidence. A ticket is then served to the vehicle's owner, regardless of who was driving. 
With a focus on high-risk areas, Ontario's automated speed enforcement cameras are located in two specific municipal areas: school and community safety zones. School zones are designated streets close to a school, featuring reduced speed limits as dictated by local bylaws. Community safety zones are high-risk corridors and intersections, subject to increased fines and penalties.  
While the Ontario Highway Traffic Act outlines the use of automated speed enforcement, municipalities can decide when and where to use cameras to curb speeding. The act does dictate financial penalties for speed violations captured with cameras, which vary depending on the number of kilometres caught over the speed limit.  
Speed enforcement is not new, but part of a broader, integrated road safety strategy that includes infrastructure improvements, awareness campaigns and new uses of technology. City officials hope for a halo effect, inspiring better driving behaviour across entire communities, not only in areas with cameras. A controversial topic, some critics take exception to speed cameras, labelling them as sneaky cash grabs for municipalities. Governments think the opposite. 
Safety advocate and auto insurance provider Onlia is hopeful that the cameras will provide drivers with a reminder to slow down, especially in high-risk areas like school and community safety zones.  
"For those who obey the speed limit, automated speed enforcement shouldn't change anything about your driving style," says Alex Kelly, Safety Ambassador at Onlia. "Drivers have fair warning as they approach areas with speed cameras, as mandatory signs provide reasonable notice of upcoming automated speed enforcement. Regardless of warnings, the best speed is the posted speed." 
You can start to understand your speeding style by downloading the insurance provider's new safe driving app that coaches and rewards for you for safe driving habits.
Online banking: How to protect yourself from fraud
(NC) Since the start of the COVID-19 crisis, a growing number of consumers are regularly using mobile and online banking to paybill payments, transfer money and make purchases.
Although these tools can give you easy access to your personal finances on demand, there are also some risks involved. For instance, your banking information—such as your debit or credit card number, user name, or personal identification number (PIN)—could be stolen. If criminals have access to your online banking information, they can steal your money, which is why it's so important to be  vigilant when you bank online.
Follow these tips to help protect your personal and banking information:
For your online bank accounts, use a strong password that can't be easily guessed, and never share your user name or password with anyone.
Check your accounts regularly to make sure there are no transactions you didn't make or authorize.
When making online purchases, never authorize a website to save your credit card information, password or other personal information. Giving websites this permission will save you some time the next time you access the site, but it poses a real threat if a hacker manages to access your information.
Most financial institutions have policies to protect you from transactions that you didn't make.
However, you are responsible for protecting your online and mobile banking information. If you give your details to anyone—including your spouse or partner, a family member or a friend—your financial institution may hold you responsible for any unauthorized transactions in your account, and even strip you of protection from unauthorized transactions in the future.
If you suspect your information may have been compromised, change your passwords immediately, and check your account and credit card statements for anomalies and report any suspicious transactions to your financial institution.
The Financial Consumer Agency of Canada has created resources to help you protect your online banking information.
Payday loans: Not the best way to borrow money
(NC) Payday loans are a very expensive way to borrow money. Even if you're struggling financially, think twice—and crunch the numbers—before getting this type of loan.
Depending on the rules in your province, payday lenders can charge fees of $15 to $25 per $100 that you borrow.
As an example, let's say you borrow $300 for home repairs. The payday lender charges you $51 in fees, or $17 for every $100 borrowed. Your loan balance is therefore $351, which amounts to an interest rate of 442 per cent.
There can be serious consequences if you don't repay your loan by the due date. These may include the following:
The payday lender may charge you a fee if there isn't enough money in your account.
Your financial institution may also charge you a fee if there isn't enough money in your account.
The total amount that you owe, including the fees, continues to increase.
There are better options out there
Payday loans should be your last resort to borrow money. Consider cheaper ways of borrowing money, such as:
Cashing in vacation days or asking for a pay advance from your employer.
Getting a line of credit, a cash advance on a credit card or a personal loan from your financial institution.
Getting a loan from family or friends.
Before getting a payday loan and to avoid getting stuck in a debt trap, consider other, less expensive ways to borrow money.