Is January Really The Best Month To Book Cheap Flights?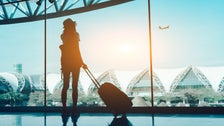 Once January comes around, most people have hit post-holiday travel fatigue. But there are reports that claim January is the best time to book inexpensive flights. So, if you're thinking of your next trip, is January really the best month to score cheap plane tickets?
According to data from travel site Hipmunk's "When to Go 2019" report, which crunched numbers from flight bookings over a two-year period, January has the lowest median domestic flight booking price, compared with any other month.
"The things that matter most for getting a good deal are when you travel and how far in advance you're booking."

– David Solomito, vice president of North America marketing for travel site Kayak
"Broadly speaking," January is one of the cheapest months to book, David Solomito, vice president of North America marketing for travel site Kayak, told HuffPost. However, two factors in your travel plans matter a lot more than picking a random month to buy a plane ticket.
"What you're saying is true, but there's nothing magic or special about January," Solomito said. "The things that matter most for getting a good deal are when you travel and how far in advance you're booking."
Kayak found that for international travel, its data show that people book about three months in advance. That means in January, their travel dates are for March and April, which are among the cheaper months to travel, compared with peak summer months and the holidays. Solomito suggested this could be why January often offers cheap flights.
He recommended pinpointing where and when you want to go to get a better deal. According to Kayak's 2019 Travel Hacker Guide, U.S. travelers should book domestic flights one month ahead. The guide generally recommends booking tickets three months in advance for Central America, five months for Africa, and six months for Europe, Asia, and the Middle East.
Skyscanner offered similar suggestions in its 2019 guide about "the best time to book flights from the United States." It recommends booking a domestic flight two to three weeks ahead, and an international trip five to six months in advance.
"It's not like the Black Friday of the year."

– Liana Corwin, consumer travel expert for travel app Hopper
Data from travel app Hopper also found that prices drop in January after the holidays because of low demand, said Liana Corwin, consumer travel expert for the site. That makes January a good time to book flights, especially for travel through the remainder of winter.
But don't necessarily expect to find a great deal in January for summer travel or for holidays more than six months out, Corwin said.
"It's not like the Black Friday of the year," she said.
Travel agents get a different kind of in-depth look at flight trends. Stacy Small, founder and CEO of boutique luxury travel firm Elite Travel International, said she wouldn't give January the top honor for cheap flights.
"I'll stand by my theory," she said. "Flight prices change overnight."
Small did point out that there are "decent fares" in January, because there's good availability for popular destinations. Still, flight prices are simply too erratic to claim January should be the go-to month to book.
Cindy Goldberger, travel adviser for Brooklyn, New York-based agency Hiatus, said that when clients come to her after the holidays with travel plans, she's not always able to find low numbers for certain flights.
"There are just too many factors that affect the cost of airfare," Goldberger said via email. "Just like any time of the year, it all depends on the destination and how far out someone is booking."
"I'll stand by my theory. Flight prices change overnight."

– Stacy Small, founder and CEO of boutique luxury travel firm Elite Travel International
Still, there is one thing many travel experts agree on: January is a great time to travel.
"January historically is the cheapest month to fly for both domestic and international destinations, with domestic airfare 31 percent lower on average than peak summertime booking prices," Hipmunk said in its 2019 report.
"January, in general, is a great month to travel," said Corwin. "Historically, prices drop after the holidays, and this January has been no different."
So, if you want to keep the travel budget low, it could be worth trading an expensive end-of-year holiday vacation for a trip just a few weeks later in January.
Dealing with baggage on your trip
(NC)Nothing is more embarrassing than having to unpack your baggage at the airport. It's common to overpack because you want to make sure you have everything you need for your trip – the right shoes, a jacket in case it's cold, a bathing suit in case there's a pool. But you must be mindful of the baggage restrictions. So, how can you be smart with your baggage when travelling?
The first thing to do is talk to your TICO-certified travel agent about the weight restrictions and number of bags you are allowed to take. Some airlines charge per bag, while others may offer one bag for free depending on weight.
You'll also need to know if there are security requirements for carry-on and checked baggage. For example, there may be prohibited items such as gels and liquids. These limitations vary from airline to airline and depends on if your flight is international or domestic, so you'll need to check the policy of the airline you're travelling with.
Naturally, you want to avoid incurring baggage fees, so talk to your travel agent, or contact the airline directly. You can also visit their website to review the luggage policy.
Here are a few more tips to help you manage your baggage when travelling:
Clearly label all baggage with your name, home address, and contact information
Place an identification tag inside the baggage in case the outside tag is torn off
Lock bags with CATSA/ACTSA travel locks
Put a colourful ribbon or other identifying marks on your bags so they are easily recognizable
Carry valuables in your hand luggage; jewelry, money, medications, important documents, etc.
You can't carry everything with you, so be smart when you pack. Take only necessary items and focus on your trip.
What travellers need to know if a destination wedding is cancelled
(NC) It's two weeks before you're scheduled to attend a destination wedding and then you get the call. The wedding has been called off.
Sure, you're upset for the couple, but now you're faced with plane tickets and hotel reservations. So, what can you do?
There's no reason why you can't go and enjoy the trip, but bear in mind you may face a price increase, especially if this was part of a group booking. Group bookings often include a minimum number of travellers to get the discounted price, as well as terms and conditions regarding changes or cancellations.
You could ask other travellers to come along to keep the group discount. But name changes often count as cancellations based on the terms of the vacation package and premium charges may apply. If you booked with a TICO-registered travel agency, website or tour company, it's better to contact them and ask about options before making any decisions.
While it's devastating for the couple who planned the destination wedding, the fact is that the cancellation affects all the confirmed guests. So, it's important to know your options so you can salvage an unfortunate situation. Always book with a TICO-registered travel agency, website or tour operator so you can circle back and find out what they can do for you.
Be safe not sorry when booking travel online
(NC) With so many travel websites available these days, many people are choosing to book their vacations from the comfort of their own home. Many travel websites are easy to navigate, and offer great vacation packages, so it seems to make sense.
But before you hit "submit", it's important to know what you're getting into. Here are a few tips that can make you more aware when booking travel online:
Look for the TICO registration number or logo. All Ontario travel agencies and websites must be registered with TICO, the provincial travel regulator that provides consumers with protections if they don't receive travel services. The registration number or logo is usually found in the About Us or Contact sections of the website.
Know where your credit card payment is going. Some websites are only search engines or booking agents for other providers.
Review the terms and conditions, particularly those that relate to cancellation, changes to bookings and refunds. Know what the travel agent or tour operator's responsibilities are.
Keep a paper copy of your transactions, correspondence and confirmations.
Double check which currency the prices are quoted in. You could be paying in Euros instead of Canadian dollars.
Keep in mind that tax amounts can vary in travel advertisements. Ontario travel agencies and websites can display their taxes in four different ways:

A total price
A base price plus total taxes, fees and additional charges
A base price with a detailed breakdown
All taxes, fees and additional charges.

Research your destination to find out if there are any travel advisories, which can be found on the Government of Canada website.
Check the online travel agency's website for a live-chat feature, email address or toll-free number to talk to a travel agent. Travel agents are a great resource to answer any questions you may have to ensure you are making an informed travel purchase.