Disneyland Fans Are Not Happy About The Latest Price Hikes
Visiting "The Happiest Place on Earth" just got even more expensive. On Sunday, ticket prices rose at the Disneyland Resort in Anaheim, California.
The increase impacts visitors to the original Disneyland Park and Disney California Adventure. The cheapest ticket for guests over the age of 10 rose to $104, a relatively modest hike from the previous price of $97. That ticket is the one-day single-park "value" option, which is available for off-peak dates like January weekdays.
The one-day single-park "regular" ticket (for dates in average demand) rose from $117 to $129, and the one-day single-park "peak" ticket (for holidays and other peak times) jumped from $135 to $149.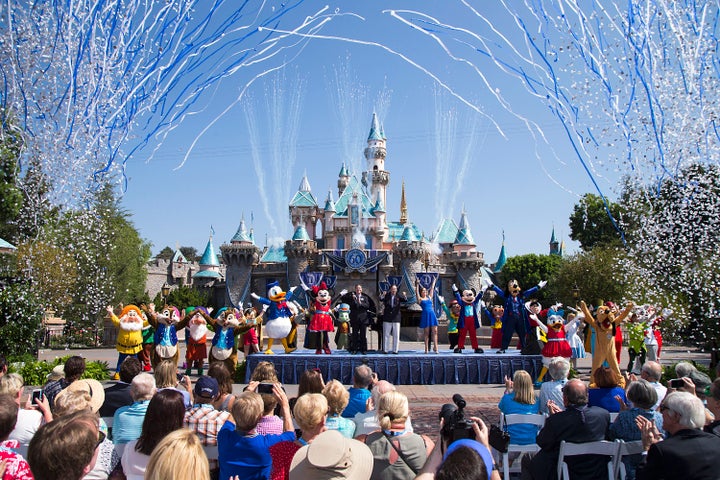 Children under the age of 3 still do not need a ticket to enter, but the prices for kids ages 3-9 have gone up from $91 to $98 for the one-day single-park "value" option, $117 to $122 for regular, and $127 to $141 for peak.
Park-hopper and multi-day ticket prices have also increased, as has the cost of annual passes. The cheapest option for yearly passes, the Disney Southern California Select Annual Passport, rose from $369 to $399, and the most expensive "Premier Passport" rose from $1,579 to $1,949. Middle-tier options like the Deluxe and Signature jumped from $729 to $799 and $999 to $1,149, respectively.
The price of parking has gone up to $25 a day, from $20, and Disney MaxPass, a service that allows guests to make FastPass reservations on their smartphones, now costs $15, instead of $10.
Many Disney fans were not pleased about the latest price hikes. One Twitter user declared, "Disney is run by Scrooge McDuck." Another asked, "Does #Disneyland hate middle/lower class families?"
Others have made it clear that the new prices will not stop them from visiting Mickey and the gang. And maybe that's the real magic of Disney…
Lottoland: Here's why Canadians love it!
Lotteries have been in existence for many centuries now and it's an open secret that most people enjoy playing a good lottery.
Asides from gauging your own luck, the thrill of playing, the anticipation of the results and the big wins every now and then is something most people look forward to. Since 1982, the lottery has been in Canada, but now there is a way to play both the Lotto and other international lotteries from Canada, all from the comfort of your home.
With Lottoland, all you need to do is register and get access to numerous international lotteries right from their website. The easy-to-use interface has all the information you need, and great amount of care has been taken to ensure that the online experience is similar—and even better—than if players were to visit each location personally.
The Powerball and Mega Millions lotteries are hitting record highs with their prize money, in what the organizers claim to be the largest jackpot in the history of the world. However, the U.S. has gambling laws that are state controlled and buying your ticket through an online broker can be considered gambling.
"No one except the lottery or their licensed retailers can sell a lottery ticket. No one. Not even us. No one. No, not even that website. Or that one," Powerball's website says.
Therefore, to stand a chance to win the $1.5 billion-dollar lottery jackpot it means you have to purchase your lottery tickets directly from a licensed retailer such as Lottoland.
Since 2013, Lottoland has been operating in Canada, rapidly growing in popularity amongst Canadians. Due to its easy of use and instant access to lotteries that were previously considered inaccessible—as Canadians had to travel all the way to the U.S. to purchase tickets in the past—Lottoland has attracted lots of visitors.
Currently, there about 8-million players on Lottoland, a figure that points to the reliability of the website.
One of the core values of Lottoland is transparency and that's why a quick search on the website would show you a list of all of their winners. Recently, a Lottoland customer was awarded a world-record fee of $137 million CND.
Also, due to the incredibly slim chances of winning the grand prize not everyone would take home mega-dollar winnings, but there are substantial winnings every day.
Securing your information online is usually one important factor when registering on any platform and as the site explains, "Lottoland works very hard to verify your information."
The site has a multi-verification process that will ensure that you confirm your identity and age before giving you a pay-out. However, in the rare case that a player has immediate luck and wins a lottery before completing the verification process, Lottoland will hold on to the winnings until they complete your verification.
While this might seem like a tedious process, it is very important as these safety features would ensure that your information wasn't stolen and ultimately your winning routed to another account.
Lottoland is licensed with the National Supervisory Bodies For Lotteries in several countries such as the United Kingdom, Italy, Sweden, Ireland and Australia—where it is called a wagering license. Typically, most gaming companies don't establish insurance companies as it entails that their activities have to be transparent and the must be highly reputable in the industry.
Nonetheless, Lottoland has no issues meeting up to these standards as they have established themselves as the only gaming sector company who has its own insurance company—an added advantage for new and existing users.
Lotteries aren't the only games Canadians enjoy playing and Lottoland recognizes this by providing players with other types of gaming. As an industry leader, video designers of online games often make them their first choice when it comes to publishing their works.
Online games such as slots, blackjack, video poker, baccarat, keno, scratchoffs, roulette and many others are always on offer at the Lottoland Casino. There's also the option of playing with a live dealer and a total of over 100 games.
Lottoland has received numerous rave reviews from its growing list of satisfied customer and their responsive customer service agents are always available to answer any questions users may have, along with solving challenges they may have encountered.
More and more Canadians are trooping to Lottoland in droves due to the unique experience of going to a casino without having to leave the comfort of their homes.
Dealing with baggage on your trip
(NC)Nothing is more embarrassing than having to unpack your baggage at the airport. It's common to overpack because you want to make sure you have everything you need for your trip – the right shoes, a jacket in case it's cold, a bathing suit in case there's a pool. But you must be mindful of the baggage restrictions. So, how can you be smart with your baggage when travelling?
The first thing to do is talk to your TICO-certified travel agent about the weight restrictions and number of bags you are allowed to take. Some airlines charge per bag, while others may offer one bag for free depending on weight.
You'll also need to know if there are security requirements for carry-on and checked baggage. For example, there may be prohibited items such as gels and liquids. These limitations vary from airline to airline and depends on if your flight is international or domestic, so you'll need to check the policy of the airline you're travelling with.
Naturally, you want to avoid incurring baggage fees, so talk to your travel agent, or contact the airline directly. You can also visit their website to review the luggage policy.
Here are a few more tips to help you manage your baggage when travelling:
Clearly label all baggage with your name, home address, and contact information
Place an identification tag inside the baggage in case the outside tag is torn off
Lock bags with CATSA/ACTSA travel locks
Put a colourful ribbon or other identifying marks on your bags so they are easily recognizable
Carry valuables in your hand luggage; jewelry, money, medications, important documents, etc.
You can't carry everything with you, so be smart when you pack. Take only necessary items and focus on your trip.
What travellers need to know if a destination wedding is cancelled
(NC) It's two weeks before you're scheduled to attend a destination wedding and then you get the call. The wedding has been called off.
Sure, you're upset for the couple, but now you're faced with plane tickets and hotel reservations. So, what can you do?
There's no reason why you can't go and enjoy the trip, but bear in mind you may face a price increase, especially if this was part of a group booking. Group bookings often include a minimum number of travellers to get the discounted price, as well as terms and conditions regarding changes or cancellations.
You could ask other travellers to come along to keep the group discount. But name changes often count as cancellations based on the terms of the vacation package and premium charges may apply. If you booked with a TICO-registered travel agency, website or tour company, it's better to contact them and ask about options before making any decisions.
While it's devastating for the couple who planned the destination wedding, the fact is that the cancellation affects all the confirmed guests. So, it's important to know your options so you can salvage an unfortunate situation. Always book with a TICO-registered travel agency, website or tour operator so you can circle back and find out what they can do for you.