Disneyland Fans Are Not Happy About The Latest Price Hikes
Visiting "The Happiest Place on Earth" just got even more expensive. On Sunday, ticket prices rose at the Disneyland Resort in Anaheim, California.
The increase impacts visitors to the original Disneyland Park and Disney California Adventure. The cheapest ticket for guests over the age of 10 rose to $104, a relatively modest hike from the previous price of $97. That ticket is the one-day single-park "value" option, which is available for off-peak dates like January weekdays.
The one-day single-park "regular" ticket (for dates in average demand) rose from $117 to $129, and the one-day single-park "peak" ticket (for holidays and other peak times) jumped from $135 to $149.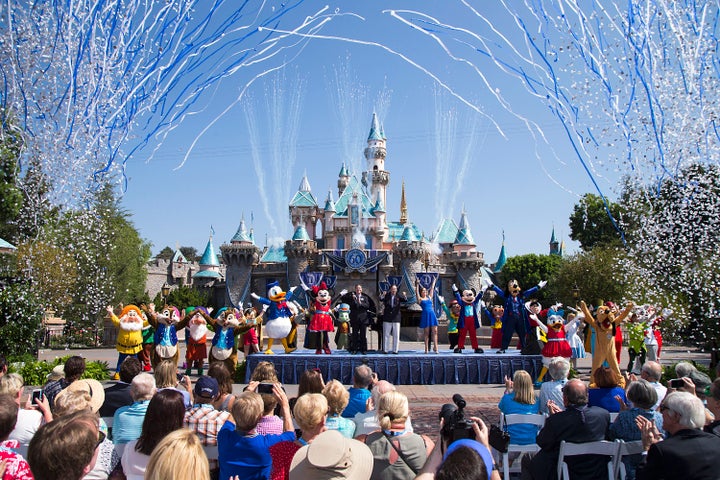 Children under the age of 3 still do not need a ticket to enter, but the prices for kids ages 3-9 have gone up from $91 to $98 for the one-day single-park "value" option, $117 to $122 for regular, and $127 to $141 for peak.
Park-hopper and multi-day ticket prices have also increased, as has the cost of annual passes. The cheapest option for yearly passes, the Disney Southern California Select Annual Passport, rose from $369 to $399, and the most expensive "Premier Passport" rose from $1,579 to $1,949. Middle-tier options like the Deluxe and Signature jumped from $729 to $799 and $999 to $1,149, respectively.
The price of parking has gone up to $25 a day, from $20, and Disney MaxPass, a service that allows guests to make FastPass reservations on their smartphones, now costs $15, instead of $10.
Many Disney fans were not pleased about the latest price hikes. One Twitter user declared, "Disney is run by Scrooge McDuck." Another asked, "Does #Disneyland hate middle/lower class families?"
Others have made it clear that the new prices will not stop them from visiting Mickey and the gang. And maybe that's the real magic of Disney…
Dealing with baggage on your trip
(NC)Nothing is more embarrassing than having to unpack your baggage at the airport. It's common to overpack because you want to make sure you have everything you need for your trip – the right shoes, a jacket in case it's cold, a bathing suit in case there's a pool. But you must be mindful of the baggage restrictions. So, how can you be smart with your baggage when travelling?
The first thing to do is talk to your TICO-certified travel agent about the weight restrictions and number of bags you are allowed to take. Some airlines charge per bag, while others may offer one bag for free depending on weight.
You'll also need to know if there are security requirements for carry-on and checked baggage. For example, there may be prohibited items such as gels and liquids. These limitations vary from airline to airline and depends on if your flight is international or domestic, so you'll need to check the policy of the airline you're travelling with.
Naturally, you want to avoid incurring baggage fees, so talk to your travel agent, or contact the airline directly. You can also visit their website to review the luggage policy.
Here are a few more tips to help you manage your baggage when travelling:
Clearly label all baggage with your name, home address, and contact information
Place an identification tag inside the baggage in case the outside tag is torn off
Lock bags with CATSA/ACTSA travel locks
Put a colourful ribbon or other identifying marks on your bags so they are easily recognizable
Carry valuables in your hand luggage; jewelry, money, medications, important documents, etc.
You can't carry everything with you, so be smart when you pack. Take only necessary items and focus on your trip.
What travellers need to know if a destination wedding is cancelled
(NC) It's two weeks before you're scheduled to attend a destination wedding and then you get the call. The wedding has been called off.
Sure, you're upset for the couple, but now you're faced with plane tickets and hotel reservations. So, what can you do?
There's no reason why you can't go and enjoy the trip, but bear in mind you may face a price increase, especially if this was part of a group booking. Group bookings often include a minimum number of travellers to get the discounted price, as well as terms and conditions regarding changes or cancellations.
You could ask other travellers to come along to keep the group discount. But name changes often count as cancellations based on the terms of the vacation package and premium charges may apply. If you booked with a TICO-registered travel agency, website or tour company, it's better to contact them and ask about options before making any decisions.
While it's devastating for the couple who planned the destination wedding, the fact is that the cancellation affects all the confirmed guests. So, it's important to know your options so you can salvage an unfortunate situation. Always book with a TICO-registered travel agency, website or tour operator so you can circle back and find out what they can do for you.
Be safe not sorry when booking travel online
(NC) With so many travel websites available these days, many people are choosing to book their vacations from the comfort of their own home. Many travel websites are easy to navigate, and offer great vacation packages, so it seems to make sense.
But before you hit "submit", it's important to know what you're getting into. Here are a few tips that can make you more aware when booking travel online:
Look for the TICO registration number or logo. All Ontario travel agencies and websites must be registered with TICO, the provincial travel regulator that provides consumers with protections if they don't receive travel services. The registration number or logo is usually found in the About Us or Contact sections of the website.
Know where your credit card payment is going. Some websites are only search engines or booking agents for other providers.
Review the terms and conditions, particularly those that relate to cancellation, changes to bookings and refunds. Know what the travel agent or tour operator's responsibilities are.
Keep a paper copy of your transactions, correspondence and confirmations.
Double check which currency the prices are quoted in. You could be paying in Euros instead of Canadian dollars.
Keep in mind that tax amounts can vary in travel advertisements. Ontario travel agencies and websites can display their taxes in four different ways:

A total price
A base price plus total taxes, fees and additional charges
A base price with a detailed breakdown
All taxes, fees and additional charges.

Research your destination to find out if there are any travel advisories, which can be found on the Government of Canada website.
Check the online travel agency's website for a live-chat feature, email address or toll-free number to talk to a travel agent. Travel agents are a great resource to answer any questions you may have to ensure you are making an informed travel purchase.