Why do some planes in Canada lack potentially life-saving emergency beacons?
[ad_1]

More than half of the 27,000 civil aircraft in Canada aren't equipped with a modern device that could save lives by allowing search and rescue crews to more easily find potential crash survivors, according to the Transportation Safety Board of Canada.  
Modern emergency locator transmitters, or ELTs, emit radio distress calls that can be picked up by satellites, but many small, private and recreational aircraft use older technology that's of little use to rescuers if a plane goes down, because the signal is unlikely to be picked up. 
Steven Lett is head of the Cospas-Sarsat Secretariat, the international organization that runs a satellite-based search and rescue system. (Submitted by Steven Lett)
"There's no way to tell where it's coming from, no way to tell the identity of the source," said Steve Lett, head of the Cospas-Sarsat Secretariat, the international organization that runs the satellite-based search and rescue system.   
"It relies on the luck of having another aircraft possibly flying nearby and that aircraft having its receiver tuned to 121.5 MHz, and also that aircraft not assuming that it's some sort of a test."   
Search and rescue satellites no longer pick up the 121.5 MHz distress signal, which isn't a problem for large commercial airplanes most Canadians use to travel because they use up-to-date ELTs.
Those systems are designed to go off when a plane crashes, sending a signal to orbiting satellites that is relayed to a mission control centre. Local search and rescue crews are then advised where they can find the crash site. 
"Private aircraft, general aviation aircraft, they are not as closely supervised. They tend to crash much more frequently and yet governments … the Canadian and U.S. governments included, continue to allow them to fly with only a 121.5 MHz ELT," said Lett, whose organization stopped monitoring the 121.5 MHz frequency in 2009.
Search and rescue technicians rely on ELTs to find aircraft that have crashed. (JTFA/Twitter)
The older distress signals weren't accurate, so Cospas-Sarsat began monitoring ELTs that emit a 406 MHz radio signal instead. Those signals are digital and capable of providing more accurate location information and even the identity of the aircraft.
But in Canada, it is not mandatory for planes to have a 406 MHz ELT.
The Transportation Safety Board of Canada determined in 2016 there were approximately 27,000 aircraft registered in Canada that required an ELT, but only 10,086 equipped with a 406 MHz ELT.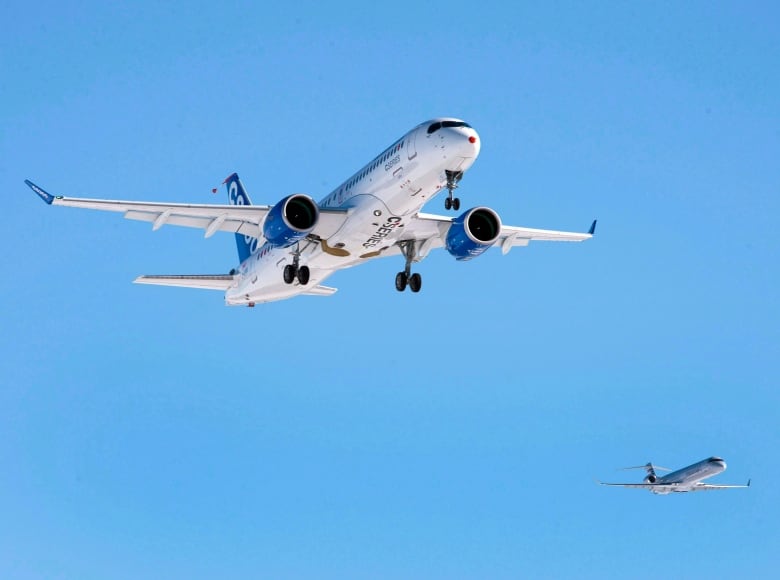 Larger commercial planes already have 406 MHz ELTs installed. (Ryan Remiorz/Canadian Press)
That year, the board recommended that Transport Canada make 406 MHz ELTs mandatory.
Transport Canada accepted the recommendations, but so far, no regulations have changed, said Daryl Collins, a senior investigator with the board.
Transport Canada declined to be interviewed, but said it continually explores ways of updating safety requirements. 
This diagram outlines how what happens after an emergency signal is transmitted. (Cospas-Sarsat)
Since the new ELTs aren't mandatory, pilots are less willing to adopt them and many don't trust the transmitters will work in an emergency, said Bernard Gervais, president and CEO of the Canadian Owners and Pilots Association.  
The association has 16,000 members across the country who fly everything from recreational and personal aircraft to private and business planes. 
Bernard Gervais of the Canadian Owners and Pilots Association says pilots don't care about the cost of installing a new ELT, which can run between $650 and $750, plus installation. It's the reliability of the devices that most pilots question, he says. (Jean-Pierre/flickr.com/djipibi)
Gervais said ELTs, new or old, have a spotty track record of activating when they're supposed to. 
"Right now it's just an iffy thing. Like I'd be down there, stuck in the airplane with broken legs, and I would think I've got a 60 per cent chance that this thing went off and that would be it. It's not reassuring to know that."  
Bernard Gervais, president and CEO of the Canadian Owners and Pilots Association, Gervais says ELTs, new or old, have a spotty track record of activating when they're supposed to. (Submitted by Bernard Gervais)
A number of things can cause an ELT to fail. A broken antenna, a fire, being submerged in water, and even mountains or thick forests can interfere with its radio signal.  
Also, if a plane strikes the ground so hard that it breaks up into pieces, it's unlikely the ELT would be intact enough to produce a signal.
The TSB said its research shows ELT signals aren't picked up in 30 to 40 per cent of crashes, often because the equipment was damaged in some way. That's why the board also recommended to Transport Canada that work be done to change the design of ELTs to improve their functionality after a crash. 
In Canada last year, there were 58 reported activations of 406 MHz ELTs during accidents. In 17 of those, the ELT was the only way search and rescue crews knew that an aircraft had gone down.
Lt.-Col. Jonathan Nelles, senior staff officer with search and rescue at 1 Canadian Air Division with the Armed Forces, said their analysis shows ELTs are 85 to 90 per cent effective in alerting search and rescue workers to an aircraft in distress.
The antenna of this ELT broke when an air ambulance flight crashed in Ontario in May 2013. The broken antenna was enough to prevent its signal from reaching search and rescue crews. (Transportation Safety Board )
In this section of the air ambulance that crashed in 2013, only the base of the ELT's antenna remains. The rest of the ELT was working, but it couldn't transmit its message because of the damage. (Transportation Safety Board)
Without an ELT, rescue crews searching for the wreckage of an aircraft have a hard road ahead of them.
"Not having a good idea of a precise location makes it challenging because some aircraft itineraries and routes are over hundreds of miles, and that results in a long, laborious search across all sorts of terrain and in all sorts of conditions," he said.
Lett admits the 406 MHz ELT isn't perfect technology, but said that shouldn't keep a pilot from upgrading a plane's antiquated distress system.
"From a common sense standpoint, it seems that if someone cares about their life and the life of their loved one, they'd want to make sure they had this relatively inexpensive insurance policy in case something went wrong with their plane."
Lt.-Col. Jonathan Nelles, senior staff officer with search and rescue at 1 Canadian Air Division with the Armed Forces, says ELTs are essential in helping search and rescue workers narrow down where to search for survivors of a crash. (JTFA/Twitter)
[ad_2]

Source link
The 'Maple Majestic' wants to be Canada's homegrown Tesla
Look out Tesla, Canada has a homegrown electric sedan on the way. Well, that's if AK International Motor Corporation can drum up enough investment to make its EV a reality. Dubbed the "Maple Majestic," the vehicle is a battery-electric designed to "excel in extreme climate performance without adversely affecting the climate, as befits a vehicle from Canada," according to its website.
What's in a name? — The company says the maple leaf is a "symbol of Canada's warmth and friendliness towards all cultures," while "majestic" refers to the country's "status as a Constitutional Monarchy."
That patriotism carries over into Maple Majestic's parent company's lofty goals. AK Motor founder Arkadiusz Kaminski says he wants the company, which he founded in 2012, to become "Canada's first multi-brand automotive OEM," and that the "Maple Majestic is intended to be Canada's flagship brand of automobiles on the world stage."
Partnerships are key — "We acknowledge that the best chance for the Maple Majestic brand to succeed, lies in continuing to build the relationship with Canada's parts suppliers and technological innovators, whether they be academic institutions, corporations, or individual inventors," the company explains. "We are currently seeking partners in automotive engineering, parts manufacturing, automotive assembly, electric propulsion technology, battery technology, autonomous technology, and hybrid power generation technology."
In other words, don't expect to be able to buy a Maple Majestic any time soon… and don't expect to pour over 0-60 mph times, power output, range, or other key stats, because those don't currently exist. For now, all we have are pictures and a short video clip. But at least those are arresting.
PE-backed Quorum Software to merge with Canadian energy tech firm
Houston-based energy technology company Quorum Software will merge with a Canadian tech firm to bolster its presence in oil and gas services.
Quorum announced Feb. 15 it plans to merge with Calgary, Alberta-based Aucerna, a global provider of planning, execution and reserves software for the energy sector. The combined firm will operate under the Quorum Software brand.
Gene Austin, CEO of Quorum Software, will continue in his capacity as chief executive of the combined firm. Austin, former CEO of Austin-based marketing tech firm Bazaarvoice Inc., became CEO of Quorum in December 2018.
Aucerna co-founder and CEO Wayne Sim will be appointed to the Quorum Software board of directors. Both companies are backed by San Francisco- and Chicago-based private equity firm Thoma Bravo.
"Over the last 20 years, Quorum has become the leading innovator of software deployed by North American energy companies," said Austin. "Today, Quorum is expanding the scope of our technology and expertise to all energy-producing regions of the globe. Customers everywhere will have access to a cloud technology ecosystem that connects decision-ready data from operations to the boardroom."
In addition to the merger announcement, Quorum Software announced it had entered into an agreement with Finnish IT firm TietoEvry to purchase TietoEvry's entire oil and gas business. The agreement, which includes hydrocarbon management, personnel and material logistics software and related services, is valued at 155 million euros, or $188 million, according to a statement from TietoEvry.
"Our three organizations complement each other — from the software that our great people design to the energy markets where we operate," said Sim. "Our new company will be able to deliver value to our stakeholders, while accelerating the growth of our combined business and the energy industry's software transformation."
The combined company will serve over 1,800 energy companies in 55 countries, according to the announcement. With its headquarters in Houston, Quorum will continue to have a significant presence in Calgary and in Norway, the headquarters for TietoEvry's oil and gas software business. Quorum will have other offices throughout North America, Latin America, Europe, Asia and the Middle East.
As of Sept. 30, 2020, private equity firm Thoma Bravo had more than $73 billion in assets under management. In late December 2020, Thoma Bravo agreed to acquire Richardson, Texas-based tech firm RealPage in a roughly $10 billion acquisition.
Piece of Kitchener technology lands on Mars on Perseverance rover
KITCHENER — A piece of Kitchener technology has landed on Mars, thanks to NASA's Perseverance rover.
The rover settled on the planet's surface on Thursday afternoon. It's been travelling through space since it was launched from Cape Canaveral, Fla. in July.
"The whole idea of being on a device that we're sending to another plant with the express mission of looking for traces of past life, it's pretty mind boggling actually," said Rafal Pawluczyk, chief technical officer for FiberTech Optica.
The Kitchener-based company made fibre optic cables for the rover's SuperCam that will examine samples with a camera, laser and spectrometers.
"The cables that we built take the light from that multiplexer and deliver it to each spectrograph," Pawluczyk said.
The cables connect a device on the rover to the SuperCam, which will be used to examine rock and soil samples, to spectrometers. They'll relay information from one device to another.
The project started four years ago with a connection to Los Alamos National Lab, where the instruments connected to the cables were developed.
"We could actually demonstrate we can design something that will meet their really hard engineering requirements," Pawluczyk said.
The Jezero Crater is where the Perseverance rover, with FiberTech Optica's technology onboard, landed Thursday. Scientists believe it was once flooded with water and is the best bet for finding any evidence of life. FiberTech's cables will help that in that search.
Ioannis Haranas, an astrophysicist and professor at Wilfrid Laurier University, said the rover isn't looking for "green men."
"They're looking for microbial, single-cell life, any type of fossils and stuff like that," Haranas said. "That's why they chose a special landing site. This could be very fertile land for that."
"It's very ambitious," said Ralf Gellert, a physics professor at the University of Guelph.
Gellert helped with previous rover missions and said it's the first time a Mars rover has landed without a piece of Guelph technology on it. While he's not part of Perseverance's mission, he said the possibilities are exciting.
"Every new landing site is a new piece of the puzzle that you can put together with the new results that we have from the other landing sites," he said.
"It's scientifically very interesting because, even though we don't have an instrument on that rover, we can compare what the new rover Perseverance finds at this new landing site," he said.
Now that Perseverance has landed on Mars, FiberTech is looking ahead to its next possible mission into space.