The Greater Toronto Area, contrary to popular thought, is not the most unaffordable region in Ontario.
Although the Toronto Real Estate Board reported the average home sold for $785,000 this August, affordability is more than just high housing prices. Rather, it is the relationship between housing prices and the income of residents. These two figures must be aligned in order for a city to be considered affordable.
Zoocasa calculated the required income to purchase the average home in 28 major markets across the province, assuming a 20-per-cent down payment is made at a mortgage rate of 3.14% and a 30-year amortization.
To comfortably afford to carry a Toronto house at that price, the median household income would need to be at least $107,000. But the actual median income is only $66,000 – leaving an income gap of over $41,000.
Now, that's a large income gap, but it's not the highest one in Ontario.
Part of the reason Toronto doesn't top this list is because of the diverse mix of housing. Yes, Toronto has very expensive single-family houses for sale in Etobicoke, but it also has less expensive condos for sale in downtown Toronto.
Instead, the honour goes to Richmond Hill, a city just north of Toronto. There, the average home price is higher, at just under $1 million. A household would need to be earning over $136,000 to afford it, but the median income is just over $88,000, leaving an income gap of about $48,000.
If you want your money to go further, escape the golden horseshoe and head to Northern Ontario, where you'll find a surplus in your monthly budget.
Thunder Bay and Sudbury are all affordable places to live – median incomes far outpace housing prices, which average under $300,000, and you'll be able to comfortably pick and choose the perfect home with money left over in the bank.
There are even smaller cities just east of Toronto that remain affordable. Pickering, Oshawa, Whitby, Ajax Peterborough residents make more than enough to afford a home, which are mostly in the $600,000 range.
Want to see more places that are affordable? Check out the infographic below to see the full list and all the details (click to expand):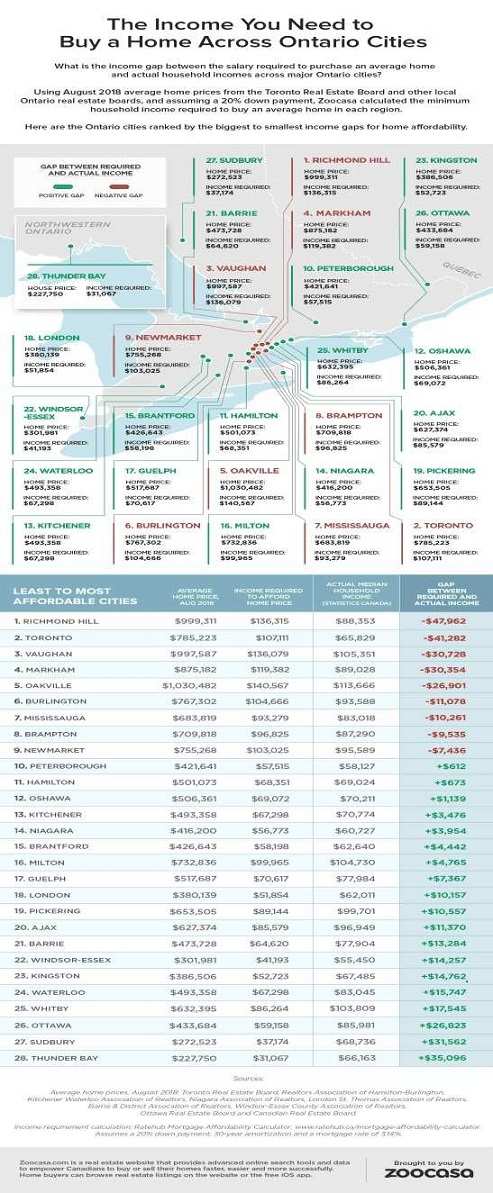 Are you looking to invest in property? If you like, we can get one of our mortgage experts to tell you exactly how much you can afford to borrow, which is the best mortgage for you or how much they could save you right now if you have an existing mortgage. Click here to get help choosing the best mortgage rate