Facebook chooses Canada for Dating feature launch today
Mark Zuckerberg is ready to play matchmaker for Canadians.
His company Facebook Inc. will aim to make its social media platform's users more than just friends with a new dating feature that will mark its North American launch in Canada on Thursday.
Facebook Dating, which was previously piloted in Colombia, operates with users creating profiles that are separate from their Facebook ones and kept out of sight of friends.
The more you share about yourself, the more there is potential exposure from a privacy point of view.– Imran Ahmad, cybersecurity lawyer
The company will recommend matches that users aren't already friends with, but who share dating preferences, interests and if they'd like, mutual friends or groups and events.
The offering will support text-only conversations between matches in an effort to minimize "casual encounters" by building long-term relationships instead and will attempt to reduce catfishing — using a fake online identity to trick prospective love interests — by importing ages and locations from a user's traditional Facebook profile.
"We were really thinking about how inauthentic experiences are making online dating really difficult… and preventing people from trusting online dating and forming a meaningful connection," said Charmaine Hung, Facebook Dating's technical program manager. "We wanted to make sure you could build that trust with someone."
Privacy concerns
Facebook Dating's Canadian rollout comes as the technology giant is embroiled in privacy concerns following a series of data breaches. The most high-profile came last winter, when the company admitted the data of up to 50 million Facebook users was misused by analytics firm Cambridge Analytica. User privacy was at risk again this September when the company reported a major security breach in which 50 million accounts may have been accessed by unknown attackers.
The company will recommend matches that users aren't already friends with, but who share dating preferences, interests and if they'd like, mutual friends or groups and events. (Facebook)
Some experts said the dating offering will raise privacy concerns of its own and is unlikely to assuage worries about the platform — even if Zuckerberg previously claimed "we have designed this with privacy and safety in mind from the beginning."
Tamir Israel, a lawyer at the Samuelson-Glushko Canadian Internet Policy and Public Interest Clinic at the University of Ottawa, said he had concerns around how separate someone's Facebook and Dating profiles will truly be because they're contained within the same app.
"People will think there is a degree of insulation because they are deciding what goes into their (Dating) profile…but we have seen over and over again that those types of divides are difficult to maintain," Israel said.
"It looks like, in spite of the challenges, they are making an effort to silo this a bit from the rest of their ecosystem, but the problem is they have a bit of a bad track record of eroding that over time."
Privacy concerns are why Facebook has introduced Dating with a slew of measures aimed at "integrity and safety," said Hung.
Users will have to opt in
For example, users will have to opt-in for the dating feature instead of being automatically enrolled. When they opt in, they will need to initialize their location services to verify they are in the city they are purporting to be in, but they can rescind that access once they've signed up.
There will also be a feature that allows people to be blocked and prevents users from messaging potential interests more than once, if the other person hasn't reciprocated with a response.
If a user is overwhelmed with matches or wants to take a break from dating, they can pause Dating and if they decide the app isn't for them, they can opt out and all their Dating data will be destroyed, Hung said.
"Good on Facebook for having thought through some of these issues, given some of the concerns they have had on privacy," said Imran Ahmad, a partner at Miller Thomson who leads the firm's cybersecurity practice.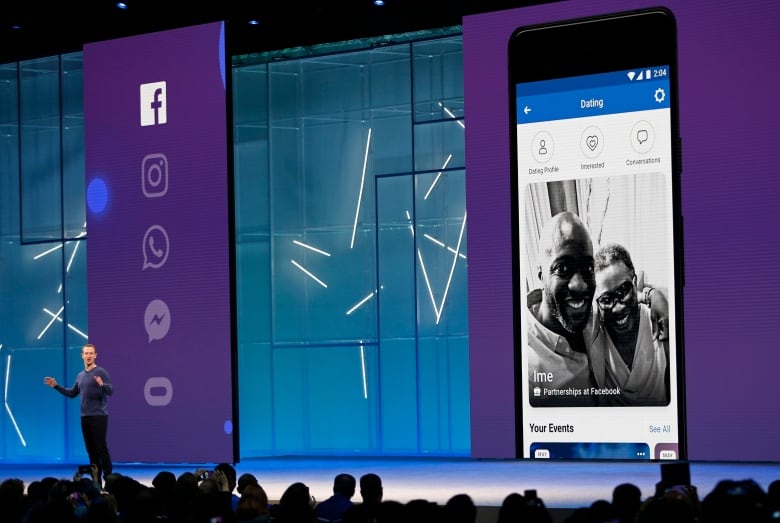 Facebook CEO Mark Zuckerberg speaks about the dating feature at Facebook Inc's annual F8 developers conference in San Jose, California, U.S. May 1, 2018. (Stephen Lam/Reuters)
"The more you share about yourself, the more there is potential exposure from a privacy point of view."
He said he was going to give Facebook the benefit of the doubt because it has pledged to address its privacy issues and has helped create a culture where social media users are becoming more attuned to privacy concerns.
"Arguably folks should be more comfortable with Facebook now given all the scrutiny they have gone through in terms of their recent missteps because everyone is watching everything they have done," he said. "Their information is probably more secure than it was in the past."
After facing near extinction, mountain gorilla population grows
There are more gorillas in the mist — a rare conservation success story, scientists say.
After facing near-extinction, mountain gorillas are slowly rebounding. On Wednesday, the Switzerland-based International Union for Conservation of Nature updated mountain gorillas' status from "critically endangered" to "endangered," a more promising, if still precarious, designation. There are now just over 1,000 of the animals in the wild.
"In the context of crashing populations of wildlife around the world, this is a remarkable conservation success," said Tara Stoinski, president and chief scientist of the Dian Fossey Gorilla Fund.
Fossey, shown in Washington, on Sept. 24, 1970, 15 years before her death, had projected that gorillas may be extinct by 2000, but their populations have been increasing thanks to conservation efforts. (Associated Press)
The Atlanta-based non-profit is named for the primate researcher whose work helped draw international attention to mountain gorillas and whose memoir became the basis for the 1988 Sigourney Weaver film Gorillas in the Mist.
"This is a beacon of hope — and it's happened in recently war-torn and still very poor countries," said Stoinski, also a member of the IUCN's primate specialist group, which recommended the status change.
Making progress
Mountain gorillas live in lush and misty forests along a range of dormant volcanoes in east Africa. Their habitat falls inside national parks spanning parts of Rwanda, Uganda and the Democratic Republic of the Congo.
Fossey, who died in 1985, had projected that the primates may be extinct by 2000. Instead, their populations have been slowly increasing thanks to sustained and well-funded international conservation efforts.
A baby mountain gorilla rides on its mother's back on the slopes of Mount Mikeno in the Virunga National Park, eastern Democratic Republic of the Congo. (Peter Andrews/Reuters)
"We have made progress in terms of their protection, in terms of allowing an environment where mountain gorillas can continue to thrive and grow," said Anna Behm Masozera, director of the International Gorilla Conservation Program, based in Kigali, Rwanda. "But it's important to note that mountain gorillas' numbers could still slip back very quickly. We still have just two fragile and small populations," split between two national park areas.
Several factors have enabled mountain gorillas' modest rebound, said Masozera.
The three governments have stepped up enforcement of national park boundaries — areas where hunting, logging and paved roads are illegal.
Tourism helps too: Visitors pay up to $1,500 an hour to watch gorillas, money that helps pay for park rangers.
"Primate ecotourism, done right, can be a really significant force for funding conservation," said Russ Mittermeier, chief conservation officer at Global Wildlife Conservation. "It gives local governments and communities a tangible economic incentive to protect these habitats and species."
There's also health care. Gorilla Doctors, a nongovernmental group, has trained veterinary staff in each of the countries where the mountain gorillas live.
Hunting in the national parks is illegal, but nearby residents still set traps to catch other animals, such as antelopes. Those traps can also grab gorillas' arms and legs.
When gorillas are found struggling with snares, the vets are called in to clean wounds. Kirsten Gilardi, U.S. director for the organization, called it "extreme conservation."
Other experts said the emergency vet interventions play a significant role in maintaining mountain gorilla populations.
"It's a total conservation win, and there aren't that many of them," said Gilardi.
NASA wants Canadian boots on the moon as first step in deep space exploration
The head of the U.S. space agency says he wants to see Canadian astronauts walking on the moon before long, as part of a first step toward the farther reaches of space.
Jim Bridenstine, the administrator of the National Aeronautics and Space Administration, says he wants Canada's decades-long space partnership with the U.S. to continue as NASA embarks on the creation of its new Lunar Gateway.
The U.S. is seeking broad international support for the next-generation space station it is planning to send into orbit around the moon starting in 2021.
Bridenstine says he wants Canada to contribute its expertise in artificial intelligence and robotics, and that could include a next-generation Canadarm on the Lunar Gateway and more Canadian technology inside.
He says NASA wants to create a "sustainable lunar architecture" that would allow people and equipment to go back and forth to the moon regularly.
Next stop: Mars
"If Canadians want to be involved in missions to the surface of the moon with astronauts, we welcome that. We want to see that day materialize," he said told a small group of journalists in Ottawa today.
"We think it would be fantastic for the world to see people on the surface of the moon that are not just wearing the American flag, but wearing the flags of other nations."
He says the return to the moon is a stepping stone to a much more ambitious goal: exploration that could include reaching Mars in the next two decades.
"The moon is, in essence, a proving ground for deeper space exploration," he said.
Bridenstine is in Ottawa for a large gathering of the Aerospace Industries Association of Canada, where speculation is running high about Canada's possible participation in the U.S. space program.
Innovation Minister Navdeep Bains, a vocal booster of Canada's AI hubs in Ontario and Quebec, is also scheduled to speak, along with one of Canada's former astronauts, Marc Garneau, the current federal transport minister.
On Dec. 3, Canadian astronaut David Saint-Jacques will travel to the International Space Station on his first mission.
Why Toronto won by losing its bid for Amazon's new headquarters
Toronto's bid for Amazon's second headquarters, known as HQ2, lost out to not just one location, but two — New York and northern Virginia — yet the Canadian city may be better off without the American retailing giant.
Amazon's initial HQ2 pitch promised as many as 50,000 jobs wherever they ultimately picked. As it turns out, those jobs will be split in two, with 25,000 in each new hub, along with another 5,000 jobs to a third city, Nashville, Tenn.
Some people in Toronto's tech sector, however, say they were worried Amazon would be a very big fish in a small pond — capable of eating up much of the talent in the pool.
"We already have a significant talent shortage, and Canadian growth companies need the talent that multinationals like Amazon will consume," said Anthony Lacavera, the founder of Toronto-based Globalive, a company that helps entrepreneurs grow their startups through investment and partnerships in an email.
Toronto's reputation as a tech hub is growing: it's thriving off of early investments in artificial intelligence and financial technology, a strong university research community, and an ecosystem that supports startups.
According to commercial real estate and investment firm CBRE, for two years in a row Toronto has been North America's fastest growing tech market, adding 28,900 tech jobs last year, up 13.6 per cent from the year before.  
But it's yet to be home to a Canadian-born Amazon equivalent.
The arrival of an 800-pound gorilla like Amazon would be more likely to squash Toronto's thriving ecosystem than help it grow, said Lacavera, who also founded his own startup in Toronto, WIND Mobile, which later sold for $1.3 billion US.
"Canada needs to build its own global winners and end the branch plant economy once and for all," Lacavera said.
Selling Toronto
Still, Toronto's bid laid out why it was "ready to become the home for Amazon's HQ2." It promoted Toronto's strong, diverse and affordable talent, quality of life, competitive corporate tax rates, and the country's universal health care.
We know that health care costs are top of mind at the company. In January, Amazon teamed up with Berkshire Hathaway and JP Morgan to create a new venture aimed at bringing down health care costs for its employees.
But health care wasn't the only sales pitch. Organizers touted what Toronto had to offer by bringing together multiple different perks from different places in and around the region.
The city's pitch had the backing of nearby cities such as Hamilton, the tech hub of Kitchener-Waterloo and many more to tout the abundance of high skilled workers — all of whom could be hired for far less than American workers paid in U.S. dollars would demand.
Toronto's bid had the backing of other nearby cities that, collectively, are home to almost 8 million people across the region. (Toronto Global)
Markham, Ont., which was part of Toronto's bid, tried to get Amazon's attention by adding "Possible Future Home of Amazon HQ2" to its welcome sign.
Markham drives innovation. Talent lives here. <a href="https://twitter.com/hashtag/ChooseMarkham?src=hash&amp;ref_src=twsrc%5Etfw">#ChooseMarkham</a> <a href="https://t.co/Ic8h4zD864″>https://t.co/Ic8h4zD864</a> <a href="https://t.co/t3N0fEnHhk">pic.twitter.com/t3N0fEnHhk</a>

&mdash;@cityofmarkham
There's something Toronto didn't do, though: woo Amazon with financial incentives. 
Even though Amazon was worth more than $1 trillion US earlier this year, as the battle between cities heated up, some tried to lure the company with billions of dollars in tax breaks and other enticements.
In the end, both cities that will share the new Amazon HQ2 were more than willing to ante up to play the game, with New York offering around $1.525 billion US in tax breaks and wage subsidies, and Virginia kicking in $573 million worth of incentives of its own.
"It's disgusting," said Richard Florida, who was on the board to craft Toronto's bid, but resigned in order to speak out against cities that were putting expensive carrots on the table, and to try to convince them to compete on merit only.
However, he says the mayors he spoke with insisted they couldn't do that.
"If everyone would've behaved like Toronto and Ontario, this would've been a much better process," said Florida, likening the competition to American Idol.
An influx of thousands of workers could create costly problems for a city, from driving up housing prices, to crowding public transit.
"If Amazon's going to come you don't want to give them anything — you want them to be a partner in addressing many of the issues they're going to create," said Florida. 
Incentives that don't pay off
Cities that compete for professional sports teams often roll out a red carpet and offer incentives such as subsidizing new stadiums. But according to Stanford economics professor Roger Noll, it's never worth it. 
"In terms of local economic activity, there's essentially zero benefit," said Noll.
The Amazon case is more complicated though, because unlike a sports franchise, Amazon will derive most of its revenue from outside the chosen city and attract a high-end labour force that pays more taxes and spends money locally.
"It's probably better for a community to buy Amazon, than a basketball team … but it's still a huge amount of money to pay and extremely unlikely to be worth it," Noll said.
Toronto likely would've needed to match the other cities' massive incentives in order to win, which would've been a bad deal for the city, he said.
"It's never worth multiple billions, and Toronto should be proud of itself that it didn't win this." 
Toronto's consolation prize
Last week, Toronto Mayor John Tory said the city already got its payoff for its Amazon bid: the proposal it posted online has been downloaded more than 17,000 times.
"The other 16,999 that read that book beyond Amazon are people that today are making decisions about coming to Toronto…. This city is a beacon for investment, for people, for companies," Tory told reporters.
On Tuesday, the mayor added that Toronto's bid organizers are still in contact with the company and are "pursuing follow-up opportunities," with Amazon that could lead to more investment down the line.
Earlier today I was asked about the recent reports around <a href="https://twitter.com/amazon?ref_src=twsrc%5Etfw">@Amazon</a>'s <a href="https://twitter.com/hashtag/HQ2?src=hash&amp;ref_src=twsrc%5Etfw">#HQ2</a> and the Toronto Region's bid for the headquarters. Here's my response: <a href="https://t.co/jXphOM11AO">pic.twitter.com/jXphOM11AO</a>

&mdash;@TorontosMayor
Toronto may have already landed a headquarters of sorts, if the Sidewalk Labs project that plans to transform a neighbourhood in downtown Toronto goes ahead, according to Florida. Sidewalk Labs is a sister company to Google.
"We could have a Google HQ2," said Florida. "People don't think of that." 
If the Sidewalk Labs project is able to address concerns over data privacy and other issues that come up in public consultations, Florida is optimistic that it would benefit Toronto more than an Amazon headquarters. 
"For Toronto's sake, I think it's better it ended up this way," said Florida