Facebook chooses Canada for Dating feature launch today
Mark Zuckerberg is ready to play matchmaker for Canadians.
His company Facebook Inc. will aim to make its social media platform's users more than just friends with a new dating feature that will mark its North American launch in Canada on Thursday.
Facebook Dating, which was previously piloted in Colombia, operates with users creating profiles that are separate from their Facebook ones and kept out of sight of friends.
The more you share about yourself, the more there is potential exposure from a privacy point of view.– Imran Ahmad, cybersecurity lawyer
The company will recommend matches that users aren't already friends with, but who share dating preferences, interests and if they'd like, mutual friends or groups and events.
The offering will support text-only conversations between matches in an effort to minimize "casual encounters" by building long-term relationships instead and will attempt to reduce catfishing — using a fake online identity to trick prospective love interests — by importing ages and locations from a user's traditional Facebook profile.
"We were really thinking about how inauthentic experiences are making online dating really difficult… and preventing people from trusting online dating and forming a meaningful connection," said Charmaine Hung, Facebook Dating's technical program manager. "We wanted to make sure you could build that trust with someone."
Privacy concerns
Facebook Dating's Canadian rollout comes as the technology giant is embroiled in privacy concerns following a series of data breaches. The most high-profile came last winter, when the company admitted the data of up to 50 million Facebook users was misused by analytics firm Cambridge Analytica. User privacy was at risk again this September when the company reported a major security breach in which 50 million accounts may have been accessed by unknown attackers.
The company will recommend matches that users aren't already friends with, but who share dating preferences, interests and if they'd like, mutual friends or groups and events. (Facebook)
Some experts said the dating offering will raise privacy concerns of its own and is unlikely to assuage worries about the platform — even if Zuckerberg previously claimed "we have designed this with privacy and safety in mind from the beginning."
Tamir Israel, a lawyer at the Samuelson-Glushko Canadian Internet Policy and Public Interest Clinic at the University of Ottawa, said he had concerns around how separate someone's Facebook and Dating profiles will truly be because they're contained within the same app.
"People will think there is a degree of insulation because they are deciding what goes into their (Dating) profile…but we have seen over and over again that those types of divides are difficult to maintain," Israel said.
"It looks like, in spite of the challenges, they are making an effort to silo this a bit from the rest of their ecosystem, but the problem is they have a bit of a bad track record of eroding that over time."
Privacy concerns are why Facebook has introduced Dating with a slew of measures aimed at "integrity and safety," said Hung.
Users will have to opt in
For example, users will have to opt-in for the dating feature instead of being automatically enrolled. When they opt in, they will need to initialize their location services to verify they are in the city they are purporting to be in, but they can rescind that access once they've signed up.
There will also be a feature that allows people to be blocked and prevents users from messaging potential interests more than once, if the other person hasn't reciprocated with a response.
If a user is overwhelmed with matches or wants to take a break from dating, they can pause Dating and if they decide the app isn't for them, they can opt out and all their Dating data will be destroyed, Hung said.
"Good on Facebook for having thought through some of these issues, given some of the concerns they have had on privacy," said Imran Ahmad, a partner at Miller Thomson who leads the firm's cybersecurity practice.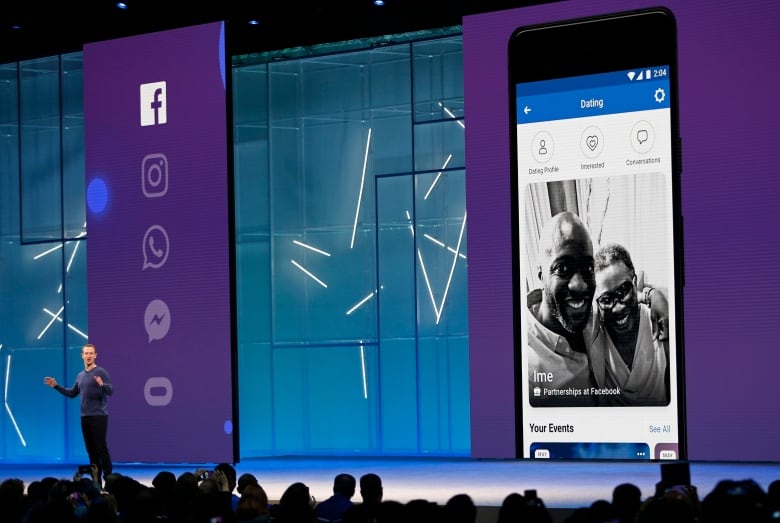 Facebook CEO Mark Zuckerberg speaks about the dating feature at Facebook Inc's annual F8 developers conference in San Jose, California, U.S. May 1, 2018. (Stephen Lam/Reuters)
"The more you share about yourself, the more there is potential exposure from a privacy point of view."
He said he was going to give Facebook the benefit of the doubt because it has pledged to address its privacy issues and has helped create a culture where social media users are becoming more attuned to privacy concerns.
"Arguably folks should be more comfortable with Facebook now given all the scrutiny they have gone through in terms of their recent missteps because everyone is watching everything they have done," he said. "Their information is probably more secure than it was in the past."
Chill out: Wolves take snow days too, says study
When snow falls, wolves chill out, according to a recent study from the University of Alberta.
Over two winters, researchers looked at the movements of grey wolves near Fort McMurray, Alta. in conjunction with data on snowfall in the area.
"We found that on the night that it was snowing, wolves rested more than they travelled, and when they travelled, they travelled slower than on other days when there wasn't any snowfall," Amanda Droghini, a former master's student with the biology department. 
The researchers also found that within a day of the snowfall, the wolves returned to their normal movement behaviours. They don't know exactly why the wolves changed their movements, but they have some theories.
"We think that it might be something about actively falling snow," said Droghini.
Snow, like rain, clears the air of scent molecules, she said. Wolves rely heavily on their sense of smell to hunt, especially at night. Most of the wolves studied do their hunting after dark.
Another possible explanation, said Droghini, is that the wolves' prey move less in falling snow.
"We unfortunately don't have the data to test this," she said, but if other animals are hunkered down, waiting for the snow to stop, there is no incentive for the wolves to go out hunting.
In their study, researchers used cameras and data transmitted from collars on 17 wolves. (Submitted by Amanda Droghini)
The researchers used data from remote cameras that monitored snowfalls, and collars on 17 wolves. These wolves were also part of a separate study that looked at the movement of wolves and moose near Fort McMurray.
It's hard to say right now how climate change might affect the behaviour of wolves in snow, said Droghini.
Information about snow conditions is scarce, particularly in the North where there aren't many weather stations.
Droghini said more freeze and thaw cycles could make movement difficult for animals in winter.
Rain after snow can create an icy crust over the snowpack, and this kind of snow is the most challenging for animals to walk through, she said.
"It costs them a lot of energy."
The concern, said Droghini, is that it might be more difficult for animals to maintain the energy levels they need for the reproductive season.
Trump says U.S. will develop space-based missile defence
Moving to protect the U.S. from advanced missile threats from China and Russia, President Donald Trump on Thursday laid out plans for a new array of space-based sensors and other high-tech systems designed to more quickly detect and defeat attacks.
Trump, in a speech at the Pentagon, declared that space is the new warfighting domain. And he vowed that the U.S. will develop an unrivaled missile defence system to protect against advanced hypersonic and cruise missile threats from competitors and adversaries.
"Our goal is simple: to ensure that we can detect and destroy any missile launched against the United States — anywhere, anytime, anyplace," Trump said. "In a time of rapidly evolving threats, we must be certain that our defensive capabilities are unrivaled and unmatched anywhere in the world."
Trump did not mention Russia, China or North Korea in his roughly 20-minute speech. But the Pentagon's new strategy makes clear that its plan for a more aggressive space-based missile defence system is aimed at protecting against existing threats from North Korea and Iran and countering advanced weapon systems being developed by Russia and China.
The new review is the first since 2010, and it concludes that to adequately protect America, the Pentagon must expand defence technologies in space and use those systems to more quickly detect, track and ultimately defeat incoming missiles.
Acting Defence Secretary Pat Shanahan, who also spoke, said the new hypersonic missiles being developed by nations such as Russia and China are harder to see, harder to track and harder to defeat.
To address that, the U.S. is looking at putting a layer of sensors in space to more quickly detect enemy missiles when they are launched. The U.S. sees space as a critical area for advanced, next-generation capabilities to stay ahead of the threats.
The administration also plans to study the idea of basing interceptors in space, so the U.S. can strike incoming enemy missiles during the first minutes of flight when the booster engines are still burning.
20 times faster than sound
Russia and China have made clear their efforts to develop the high-tech programs.
Russian President Vladimir Putin unveiled new strategic weapons he claims can't be intercepted. One is a hypersonic glide vehicle, which could fly 20 times faster than the speed of sound and make sharp manoeuvres to avoid being detected by missile defence systems.
Missile defence officials on Thursday declined to provide any budget estimates or timelines for the programs.
Michael Griffin, the defence undersecretary for research and engineering, told Pentagon reporters that developing a new layered network of sensors in space is key to being able to detect a fast-moving hypersonic missile in its early, more vulnerable stages.
The Pentagon, he said, will study the issue to determine how many would be needed, and at what orbit they would fly. He said the program is affordable and some funding for that would be in the budget that will be proposed for 2020. The system could be operational in the late 2020s.
Officials said the study on space-based interceptors could begin in the coming months. But, recognizing the potential concerns surrounding any perceived weaponization of space, officials emphasized that no testing is mandated, and no final decisions have been made.
The Trump administration is considering ways to expand U.S. homeland and overseas defences against potential missile attacks, possibly adding a layer of satellites in space to detect and track hostile targets. (Mark Wright/Missile Defense Agency via Associated Press)
'Ineffective, costly, and dangerous'
Democratic Sen. Edward Markey of Massachusetts, a member of the Foreign Relations Committee, immediately raised concerns, calling the plan a bad Star Wars sequel.
"While it is true that the missile threat environment America now faces is different, the answer is not to build a wall in space," Markey said. Adding that Trump's "misguided rush to weaponize space would be as ineffective, costly, and dangerous as it was more than three decades ago when it was soundly rejected."
During his Pentagon appearance, Trump also pressed his case to build a wall on the southern border and expressed his condolences on the deaths of four Americans in Syria on Wednesday.
Any expansion of the scope and cost of missile defences would compete with other defence priorities, including the billions of extra dollars the Trump administration has committed to spending on a new generation of nuclear weapons. An expansion also would have important implications for American diplomacy, given long-standing Russian hostility to even the most rudimentary U.S. missile defences and China's worry that longer-range U.S. missile defences in Asia could undermine Chinese national security.
While the U.S. continues to pursue peace with North Korea, Pyongyang has made threats of nuclear missile attacks against the U.S. and its allies in the past and has worked to improve its ballistic missile technology. It is still considered a serious threat to America. Iran, meanwhile, has continued to develop more sophisticated ballistic missiles, increasing their numbers and their capabilities.
Zimbabwe in 'total internet shutdown' amid violent crackdown
Zimbabwe on Friday went into "total internet shutdown," a media group said, after a days-long violent crackdown on people protesting a dramatic fuel price increase.
Badly injured people streamed into a hospital in the capital after alleged assaults by security forces.
"Our country is going through one of the most trying periods in its history," the Zimbabwe Catholic Bishops' Conference said in a sweeping statement lamenting the government's "intolerant handling of dissent" and its failure to halt economic collapse.
Media group MISA-Zimbabwe shared a text message from the country's largest telecom company, Econet, calling the government's internet order "beyond our reasonable control." The High Court will hear a challenge to the shutdown on Monday, the Zimbabwe Lawyers for Human Rights said.
A prominent pastor and activist who faces a possible 20 years in prison on a subversion charge arrived at court, one of more than 600 people arrested this week. Evan Mawarire has called it "heartbreaking" to see the new government of President Emmerson Mnangagwa acting like that of former leader Robert Mugabe.
'It's a shame what's happening'
Mawarire is accused of inciting civil disobedience online. "It's a shame what's happening," the pastor said. A magistrate said there was reasonable suspicion he had committed an offence and set a Jan. 31 hearing, while Mawarire remains in detention until his lawyer on Monday can seek bail.
International calls for restraint by Zimbabwe's security forces are growing, while Mnangagwa prepares to plead for more investment at the World Economic Forum in Davos, Switzerland. He announced the fuel price increase on the eve of his overseas trip, leaving hardline former military commander and Vice-President Constantino Chiwenga as acting president.
Zimbabwe cleric and activist Evan Mawarire speaks to the media as he arrives at court Thursday, accused of inciting violence through social media. (Jekesai Nijikizana/AFP/Getty Images)
Gasoline in the economically shattered country is now the world's most expensive. Zimbabweans heeded a nationwide stay-at-home call earlier this week in protest. Rights groups and others have accused security forces of targeting activists and labour leaders in response, with the United States expressing alarm.
The UN human rights office on Friday urged Zimbabwe to stop the crackdown, noting reports of intimidating door-to-door searches by security forces.
68 cases of gunshot wounds
The Zimbabwe Association of Doctors for Human Rights has said it had treated 68 cases of gunshot wounds and 100-plus other cases of "assaults with sharp objects, booted feet, baton sticks" and more.
Injured people streamed into a private hospital in the capital, Harare, on Thursday. Some had broken legs. A nurse attended to a man with a broken spine.
Albert Taurai told The Associated Press he had ventured out to look for bread when plainclothes officers wearing masks beat him up, accusing him of barricading roads.
Keith Frymore, a 21-year-old security guard, had a torn lip. He told the AP a group of uniformed soldiers attacked him at work.
Shops running out of bread
"I need $70 to get help here. I don't have that kind of money," he said.
Other hungry Harare residents who ventured out seeking food have reported being tear-gassed by police. Soldiers were still controlling long fuel lines in the capital on Friday, and many wary residents stayed at home.
A man stands in a shop after failing to find bread in Harare on Friday. (Tsvangirayi Mukwazhi/Associated Press)
Zimbabweans had briefly rejoiced when Mnangagwa succeeded Mugabe, who was forced out in late 2017, thinking the new president would deliver on his refrain that the country "is open for business." But frustration has risen over the lack of improvement in the collapsed economy, which doesn't even have a currency of its own.
The internet shutdown cuts off crucial access to the mobile money that Zimbabwe's government uses to pay teachers and other public workers. Some said they can no longer afford fares for public transport, and some shops have run out of basics such as bread.
Demonstrations are 'terrorism,' government says
Death tolls in this week's unrest have varied. Eight people were killed when police and military fired on crowds, Amnesty International said. Zimbabwe's government said three people were killed, including a policeman stoned to death by an angry crowd.
The demonstrations amount to "terrorism," Information Minister Monica Mutsvangwa said, blaming the opposition. State Security Minister Owen Ncube thanked security forces for "standing firm."
President Emmerson Mnangagwa replaced Robert Mugabe, who ruled Zimbabwe for decades. (Natalia Fedosenko/TASS News Agency/Associated Press)
But among those arrested are several ruling ZANU-PF party community leaders as well as a soldier and a police officer.
The U.K.'s minister for Africa, Harriett Baldwin, has summoned Zimbabwe's ambassador to discuss "disturbing reports of use of live ammunition, intimidation and excessive force" against protesters.
The European Union, in a statement late Thursday, noted the "disproportionate use of force by security personnel" and urged that internet service be restored.
Canada updated its travel advisory for the country on Thursday, warning access to food and fuel is limited, and an increased police presence should be expected in all major urban centres.
<a href="https://twitter.com/hashtag/Zimbabwe?src=hash&amp;ref_src=twsrc%5Etfw">#Zimbabwe</a>: Some social media and messaging services have been blocked. Access to food and fuel is limited. Keep supplies on hand in case of lengthy disruptions. Monitor local media. <a href="https://t.co/FO2dLlVt4Y">https://t.co/FO2dLlVt4Y</a>

&mdash;@TravelGoC