9 Questions To Ask Financial Advisors Before Hiring One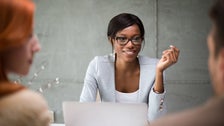 You wouldn't trust just anyone with your kids, your mental health or even your hair, so you should be just as picky when it comes to the person who manages your money. But with so many financial advisors out there, it can be tough to know if you hired the right person for the job.
One way to find out: Before you sign on, ask advisors a few probing questions to find out if they have your best interests at heart and understand what you need as a client. Here are nine to get you started.
"You don't want to be seen as just a commission check for someone in sales or a guinea pig for someone brand new to the industry."

– Michael Mustian, founder, WisePath Advisors
1. How do you get paid?
There are many ways financial advisors get paid for their services, including commissions from selling certain funds, insurance commissions, charging a percentage of assets under management, flat fees and hourly fees.
"Understanding of how a financial advisor gets paid will help clear up whether they are working in your best interests or not," said Charles Ho, a certified financial planner and the founder and CEO of Legacy Builders Financial. That's because advisors who earn money by selling you certain investments or products will likely give you biased advice that benefits their wallet above yours. Fee-only advisors, on the other hand, don't have any conflict of interest when it comes to managing your portfolio.
He added that asking advisors how they're paid can help you weed out inexperienced professionals. "There are many financial advisors who are so new and still drinking the Kool-Aid of whatever firm they are at that they don't have a clear understanding of how clients are being charged fees," he said.
2. How many clients do you work with?
Finding out the size of an advisor's client base can tell you a lot about what kind of service you can expect to receive. For instance, if advisors have a lot of clients ― say, over 200 ― they're most likely financial salespeople and not financial planners, said Michael Mustian, an accredited asset management specialist and the founder of WisePath Advisors. They need to continually get more clients in order to make a living, which he said poses a conflict when trying to do what is in the best interest of the client.
On the other hand, if advisors don't have many clients ― fewer than 40 ― they may be just getting started and may not have much experience. He said the sweet spot is 75 to 100 clients for one advisor, though a person can handle closer to 150 with a team for support.
"The big reason this is important is … if you are having someone put together a plan for you today, you really want them for the long haul to make the necessary adjustments," Mustian said. "You don't want to be seen as just a commission check for someone in sales or a guinea pig for someone brand new to the industry."
3. How do you track success for your clients?
If you pay an advisor to manage your investments and grow your wealth, you want to make sure you're getting results. When meeting with potential advisors, you should find out how they measure and track client success over time.
Jirayr R. Kembikian, a certified financial planner with Citrine Capital, said it's important to look at not only the quantitative financial metrics but also the behavioral changes you're working together to improve. "Review these metrics at least on an annual basis to determine if the relationship is successful or needs to be modified," he said.
4. How is your money invested?
You probably wouldn't want to visit a nutritionist who eats nothing but pizza and fries or a doctor who smokes two packs a day. So when it comes to financial advisors, you want to know that they practice what they preach. That's why you should ask advisors how their money is invested.
"If they are not willing to tell you or show you how their own money is invested, then maybe they don't completely believe what it is that they are telling you," said Michael Troxell, the principal and founder of Modern Financial Planning. "That would be a good indicator whether to continue the discussion or not."
5. What does your ideal client look like?
Financial advisors have varying areas of expertise and investment styles. One advisor could be a great fit for one client while a poor match for another. That's why you should ask advisors you're considering working with what their ideal client looks like.
"If they provide a general answer like 'I work with anyone and everyone who needs financial help!' and you are just looking for general advice, they are probably a good fit for you," said Ron Strobel, a certified financial planner and the founder and CEO of Retire Sensibly. "However, if you're looking for specific advice like help with complex stock options or splitting up your assets due to a divorce, you may want to keep looking and find an expert in those areas."
6. Are you a fiduciary 100 percent of the time?
A fiduciary is a person who is legally and ethically required to act solely with your best interests in mind. Just about anyone can call him- or herself a financial advisor, but only certain professional designations are held to a fiduciary standard, such as certified financial planners and registered investment advisors. Others, such as stockbrokers and insurance agents, are not.
"A common response from a dually registered agent might be a sidestep answer, such as 'When I am managing your investments, yes, I am always a fiduciary,'" said Justin Chidester, a certified financial planner at Wealth Mode Financial Planning in Logan, Utah. "But it doesn't address the fact that there are still aspects to their advice and what they do where they may not be a fiduciary, such as selling you an investment product in the first place or perhaps an insurance policy."
7. How do you communicate with clients?
Everyone has different communication styles, including when working with a financial advisor. You might enjoy frequent phone calls and emails or prefer a more hands-off approach.
"It's fair to expect regular communication from your financial advisor, but 'regular communication' is subjective," said Leah Hadley, the president of Great Lakes Investment Management in Cleveland. "Would you like a quarterly phone call? Do you prefer to meet in person, or do virtual meetings fit better into your schedule? Does your advisor meet with clients quarterly, semiannually or annually?" she said. Find out how your advisor prefers to communicate with clients and ensure it meets your expectations.
8. What is your investment philosophy?
According to Vid Ponnapalli, a certified financial planner and the founder of Unique Financial Advisors, different financial advisors have different investment philosophies. Essentially, an investment philosophy is a set of guiding principles that helps advisors make proper financial decisions. "It explains what goes into the process of choosing appropriate investments for a given situation of their clients," he said.
For example, advisors might say their philosophy is to focus on long-term investing, a globally diversified portfolio and low-cost exchange-traded funds. The advisors could explain that their choice of investments depends on factors such as the client's risk tolerance or tax situation.
It's important to ensure your advisor's philosophy aligns with your values and goals. At the very least, he or she should have one and be able to explain it to you.
9. How will you make sure I understand and follow through on your advice?
Financial advisors typically create comprehensive financial plans for their clients, which cover all the major elements of personal finance, said Kevin Mahoney, a certified financial planner and the founder and CEO of Illumint. "Too often, though, advisors deliver this tedious, unfamiliar information in a lengthy, legal-like document," he said.
Understandably, clients can feel overwhelmed by their plan and become paralyzed by the many daunting tasks in front of them. "Add a demanding job or young children to the mix, and it's unlikely that the client will change much about their financial circumstances," he said. So before hiring an advisor, you should confirm that he or she understands the type of communication, assistance and accountability you need to achieve results.
Like To Shop From Your Phone? These 5 Apps Will Help You Save Big.
From cashback sites to coupon aggregators, there's no shortage of money-saving opportunities for savvy shoppers. But while many of these apps are great for people who shop from their laptops or even venture into physical stores, few work as well when shopping directly from a phone.
Even so, there are a few apps that make earning deep discounts on purchases easy for mobile shoppers. And I should know ― I've used them all. Often, you can stack the discounts from a few of these apps on a single purchase to multiply the savings. And if you use a rewards credit card to make the purchase? Now you're cooking with gas.
But first, a word of warning: These apps only save you money if you use them on purchases you were going to make anyway. If you get carried away chasing that rewards dragon, you're not really saving any money.
With that said, here are five tried-and-true apps that help you save money when shopping on your phone.
1. Wikibuy
Wikibuy is my favorite shopping tool thanks to several money-saving features. I started using the Wikibuy Chrome extension a few months ago to quickly see if any item I was considering purchasing could be found elsewhere for less. I use it alongside the Honey extension to run coupon codes before finalizing a purchase.
In addition to scouring the web for the best deals, Wikibuy also offers cash back on qualifying purchases and adds products I've viewed online to a "watchlist" that tracks price drops. It's basically the Swiss army knife of shopping tools ― one that's earned me an extra $8 and change on top of the savings I've scored so far.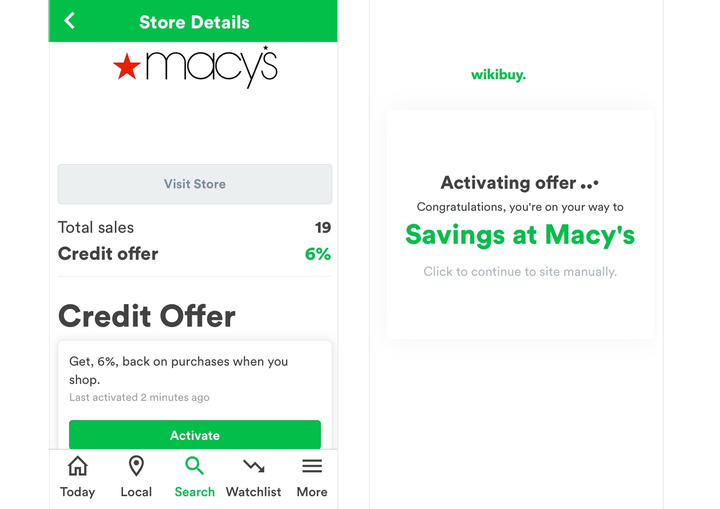 Fortunately, many of these great features translate well to the mobile app. You can search for a particular item and see which retailer is offering the lowest price, or search by store to find out what sales and cash back offers currently exist. In the example above, I searched for Macy's and found that Wikibuy was offering 6 percent cash back on purchases there at the moment. All I had to do was click "activate" to be taken directly to the Macy's site with my cash back reward waiting to be automatically applied.
2. RetailMeNot
RetailMeNot has been around for a long time, and though there are many competitors out there, I still find their app to be one of the most mobile shopping-friendly.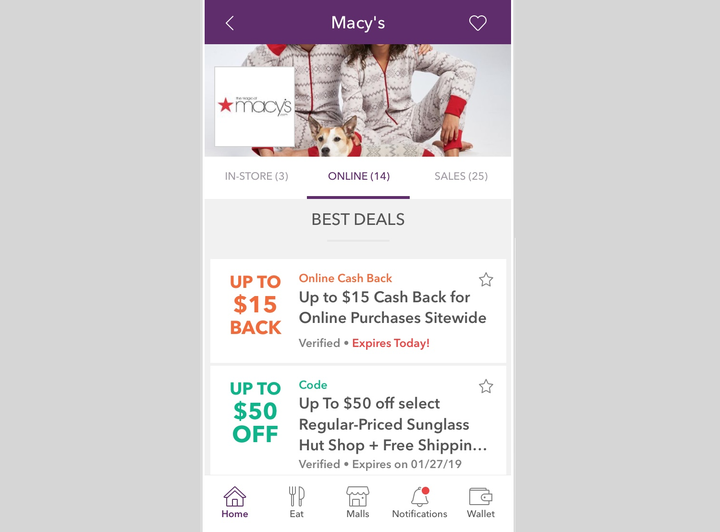 Before going through with a mobile purchase, use the RetailMeNot app to check for coupon codes and deals available through that retailer. You can filter by in-store coupons, online codes and official store sales. The coupons are crowdsourced, so they won't always work. However, the app will note whether codes have been verified by users and allows them to leave comments for others. Some purchases also qualify for cash back.
RetailMeNot's coupon codes are an easy way to stack savings. For instance, you might use Wikibuy to find the best deal on a particular item and activate a cash back deal. Then before you check out, you can check RetailMeNot for coupon codes. Make the purchase on a rewards credit card to earn extra points, and after the transaction goes through, your Wikibuy account will also be credited.
3. Paribus
To continue saving money after you've made a purchase, sign up for Paribus. The free tool tracks online purchases you've made by scanning your email for receipts and automatically submits claims for refunds when the price drops within the price protection window or is delivered late.
Paribus is a great tool because all the magic happens behind the scenes. I actually forgot I had signed up for it until I began receiving emails notifying me of claims Paribus had submitted. At first, I was a little freaked out that some app was contacting companies on my behalf and demanding money. But then I started receiving that money.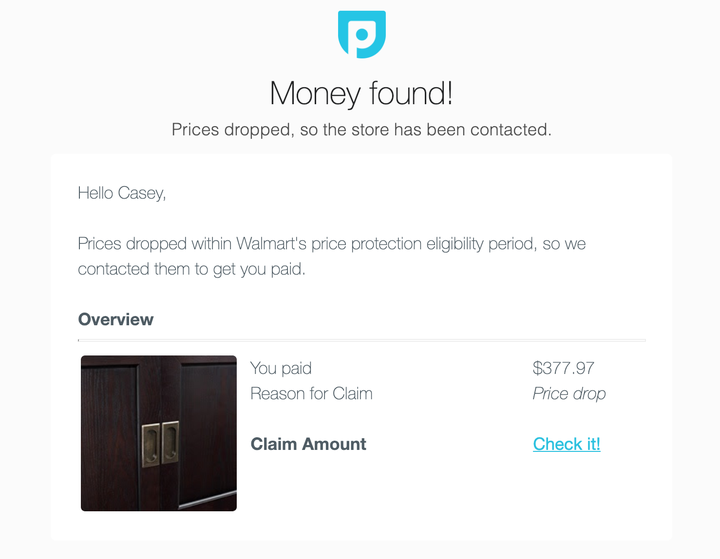 For example, I received an email from Paribus regarding an entertainment center I recently purchased from Walmart online (side note: don't ever buy an entertainment center online). The price had dropped within Walmart's price protection period, so Paribus automatically contacted the retailer to request a refund for the difference. Even though I ended up returning that piece of junk item, it was nice to know Paribus had my back. I've also received small refunds when Amazon Prime purchases arrived past the guaranteed two-day delivery window.
4. Dosh
Dosh (which is U.K. slang for "money") is a fairly new cash back app that's set itself apart from the competition. Rather than researching offers ahead of time and dealing with coupons or codes, Dosh's cash back system is more set-it-and-forget-it.
Simply link one or more credit cards to the app; when you make a qualifying purchase with that card, Dosh automatically applies your earnings ― up to 10 percent of the purchase price ― to your Dosh wallet. You can also browse the app for deals and click through to activate cash back.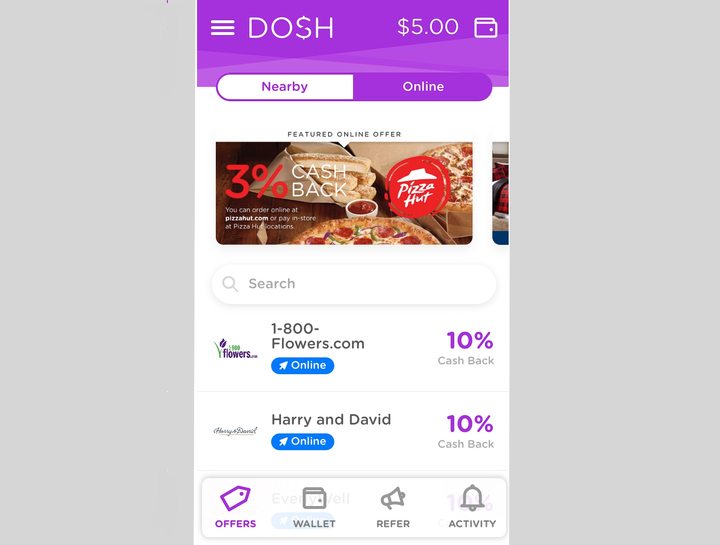 I recently signed up for Dosh and connected my rewards credit card to double up on earnings. I have yet to make a purchase, but I already earned a $5 bonus for linking my first card. Once I rack up at least $25, I can cash out via PayPal or direct deposit.
5. Drop
Drop is another fairly new cash back app that works similarly to Dosh, though it has a few limitations.
By linking your debit or credit card to your Drop account, you automatically earn points on qualifying purchases. Those points can then be redeemed for cash back in the form of gift cards to major retailers such as Amazon and Whole Foods. The downside is that you're forced to choose only five merchants from Drop's list that will qualify for points. Choose carefully, because you won't be able to change your selections. However, Drop also recommends one-time offers from other retailers that you can take advantage of.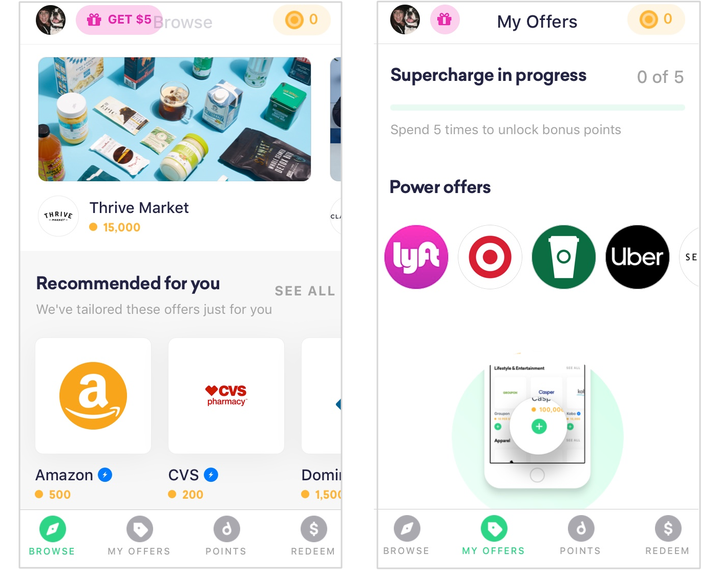 Cash is earned at a rate of $0.001 per Drop point (1,000 Drop points = $1). Dosh also recently implemented an earning cap of 5,000 Drop points per week ($5). Clearly, this is no get-rich-quick scheme. But considering you don't actually have to do anything to earn the points once your account is set up, you might as well add this app to your mobile shopping arsenal.
4 Signs Another Recession Is Coming ― And What It Means For You
Are We Headed For A Recession Soon?
Signs A Recession Is Coming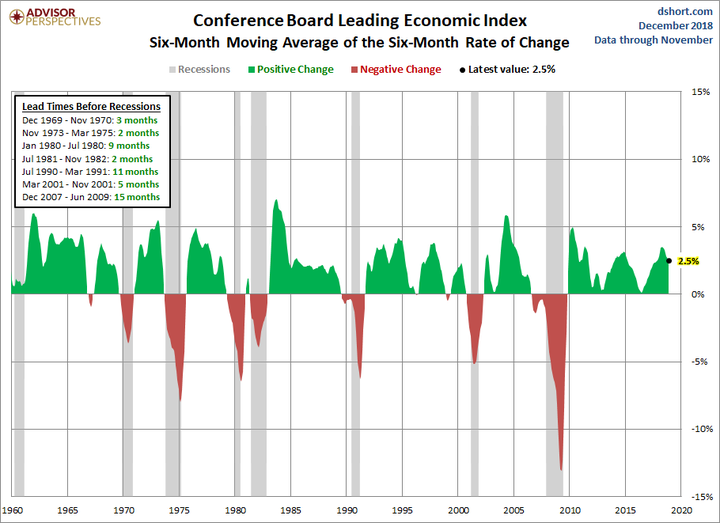 What Does This Mean For You?
Pay Off Your Student Loans Faster With These 7 Tips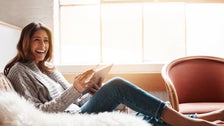 Wouldn't it be nice to finally get rid of that debt and be able to spend money on things you actually care about? The good news: There are a few strategies you can use to pay down those loans faster. Here are seven you can try.
1. Turn windfalls into extra payments.
One of the best ways to pay down your student loan debt fast is by making more than the minimum payments. Of course, "just pay more" isn't realistic advice for most people. But hear me out on this one: Even a few one-off extra payments can have a significant impact on your student loan balance.
For example, you could apply part of your yearly bonus from work or a tax refund to your debt, said Brian Walsh, a certified financial planner and financial planning manager at SoFi. Or you could participate in a challenge like dry January or a no-spend month to come up with the extra cash. It might feel painful to put something fun like a cash windfall toward your student loan debt, but the results can be dramatic.
Don't believe it? Say you have a $20,000 loan at 6 percent interest and 10 years left to pay it off. If you made just one extra payment of $100 each year, you'd pay off your loan five months sooner and save $315 in interest.
2. Split your payments in two.
Another trick you can use to pay off your loan faster is dividing your monthly payment into two. For example, if you have $300 due at the end of every month, make one payment of $150 on the 15th and a second payment of $150 on the 30th.
"This little trick could knock off an entire year of payments."

– Sean Moore, certified financial planner
Not only can this make payments a little easier to manage, since most people get their paychecks every other week, but "paying half every two weeks equals one extra payment made each year without even noticing the difference," said Sean Moore, a certified financial planner and founder of SMART College Funding.
That's because, on a monthly schedule, you'd make 12 payments per year. However, splitting payments among 26 weeks (52 weeks in the year, divided by two), you end up with 13 months' worth of payments over the same time period.
"On a typical 10-year repayment schedule, this little trick could knock off an entire year of payments (and interest)!"
3. Sign up for auto-pay.
Though it won't have the most dramatic impact on your student loan debt, signing up for automatic payments can knock off a bit of interest and help you put more cash toward the principal balance.
"This tactic allows your student loan servicer to automatically deduct your payment from your bank account each month. Besides ensuring that you pay on time and never miss a payment, some lenders may also give you a discount just for enrolling," said Janet Alvarez, a personal finance expert at Wise Bread. Usually, that discount is 0.25 percent.
4. Refinance.
If you have a steady income and good credit, you might qualify to refinance your student loans. Refinancing involves taking out a new loan and using the funds to pay off the old loan. Usually, people refinance their loans to achieve a new term length, a lower interest rate or both.
For instance, you might refinance a 10-year student loan to a term of seven years. It would result in higher monthly payments, but you'd pay the loan off faster and save money on interest. And if you can refinance to a lower interest rate as well, more of your money will go toward paying down the balance as fast as possible.
Let's take our $20,000 loan example from above. With 10 years left at 6 percent interest, your monthly payments would be $222.
Now let's say you refinance to a slightly lower rate of 5 percent. Your bill would drop to $212. Not a huge difference, sure. But what if you kept paying $222 each month despite the new lower bill? You'd knock off six months and $335 in interest from your loan. Now imagine what would happen if the interest rate difference was even bigger.
Travis Hornsby, founder of Student Loan Planner, suggests creating a refinancing ladder to maximize your savings. "The way you do this is start with a payment you can afford pretty easily, say, a 10- or 15-year loan. Pay extra when you have extra, and you'll cut down the amount that you owe rapidly," Hornsby explained. "After a couple of years, you can refinance again to a seven-year loan, often with the same payment but with a lower interest rate. Finally, you could refinance one more time to a five-year loan before you finish paying off the entire amount."
Keep in mind that you should work with a lender that doesn't charge loan origination fees, which might cancel out interest savings. It's also a good idea to weigh the risks of refinancing federal student loans, because doing so would change them to private loans and permanently forfeit federal protections such as income-driven repayment and forgiveness options.
5. Join a company that offers repayment assistance.
If you're looking to change jobs, it's worth looking into companies that help pay student loans as a benefit.
"These programs will give you money toward your student loans simply for working at the company."

– Adrian Nazari, CEO and founder of Credit Sesame
"More and more employers are embracing an employee benefit called student loan repayment assistance," said Adrian Nazari, CEO and founder of Credit Sesame. "Unlike tuition reimbursement, where you get paid for going to school, these programs will give you money toward your student loans simply for working at the company.
Only a small percentage of companies currently offer this perk, but those that do include Fidelity, Aetna and Staples. "The amounts vary from as little as $500 per year to $10,000 per year," Nazari said.
6. Volunteer.
According to Nazari, there are organizations that offer student loan repayment assistance in exchange for working on nonprofit projects. For example, SponsorChange and similar organizations match volunteers who have sought-after skills with sponsors who fund student loan payments for each project completed.
"You do need to adhere to their guidelines and successfully complete the program according to their requirements in order to qualify for loan repayment assistance," he said. "But it can be a great way to give back while making a dent in your student debt."
7. Pay according to your personality.
The debt snowball method is ideal for people who need to experience wins right away. "With this strategy, you'll begin paying the smallest balance off first," Anderson said. "Continue to make the minimum payments on your other accounts and put as much money as you can towards the smallest balance." Once the smallest balance is paid off, combine the amount you were paying on that balance with the minimum payment on your next-smallest balance, and so on. "This strategy can help keep you motivated and encouraged since you should start to see some results right away," Anderson said.
If you're more about saving as much money as possible, you might want to give the debt avalanche a shot. "With this method, you throw the largest payment you can at your highest-interest-rate debt every month, while paying the minimum payments on your other debts." By focusing on interest rates rather than the balances, you save more money overall.
A final thought:
Keep in mind that as annoying as student loan debt is, it might not always be the most urgent financial matter to address.
"Before aggressively paying down your student loans, you should make sure you paid off high-interest debt such as credit cards or personal loans," said Walsh. "You should also make sure you are saving enough for your long-term goals," he said ― think retirement ― since, over time, the returns from investing have been higher than the interest rate most people pay on student loans.
So if you have most of your financial ducks in a row and your student loans are the last thing holding you back, by all means, pay them off as fast as you can.