How To Properly Tip Housekeepers, Bellhops And Other Hotel Staff
[ad_1]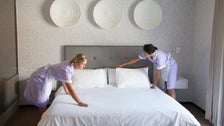 There are two types of people in the world: Those who tip well and those who don't. You know which one you are.
But thanks to all the confusing tipping situations that exist, even well-intentioned tippers can appear cheap. That's especially true at hotels, where you could easily interact with a dozen staff members in a day, all with different but important roles dedicated to ensuring you have a comfortable stay.
Fortunately, the American Hotel and Lodging Association put together a handy tipping guide for all hotel services. Here's a look at how to properly tip hotel staff so you don't end up looking like a jerk.
Housekeeper: $1 to $5 per day
Housekeepers are responsible for performing some of the most grueling physical work at hotels. It's not unusual for a housekeeper to clean 15 or more rooms a day, according to Unite Here!, a union that represents more than 100,000 hotel workers throughout the U.S. and Canada. To meet the demands of the job, they often work off the clock, skipping meals and bathroom breaks.
They're not just vacuuming and fluffing pillows. Housekeepers have to clean up the godawful messes you leave behind (you know what we're talking about). And not only is the work hard ― it can be dangerous. Working alone in strangers' rooms can put housekeepers at risk of sexual harassment and assault.
Despite all this, housekeeping staff members are often shortchanged when it comes to tips. Remember, just because they're often out of sight doesn't mean they're not putting in the work. So be sure to leave a few dollars each day. The AHLA suggests putting the cash in an envelope with a note so it's clear it's for housekeeping.
Shuttle driver: $1 to $2 per person or $4 to $5 per party
If you take advantage of your hotel's complimentary shuttle service, you should tip the driver for taking the time to get you to your destination safely. A couple bucks will suffice, though if you have a large group, consider upping your tip appropriately.
Valet/parking attendant: $1 to $5
It's usually customary to slip the valet attendant a couple of dollars when your car is returned. However, considering these workers only earn $9.30 an hour on average, the quality of the service you receive could be greatly influenced by some extra cash up front. So to make sure your baby is handled with care, consider handing over a tip along with your keys.
Bellstaff/porter: $1 to $5 per bag
The hotel staff that's responsible for lugging your belongings to and from your room should be tipped a dollar or two. However, if they're tasked with hauling particularly heavy luggage or take the time to show you the amenities in your room, your tip should reflect the added service. Tip when checking in and checking out.
Door Staff: $1 to $2
You don't need to worry about tipping when the person attending the door points you toward the best nearby cafe or bar. However, if they assist you in hailing a taxi or unloading luggage, it's a good idea to tip a couple of bucks.
Concierge: $5 to $10
Think of the concierge as your personal assistant. Their job is to offer exemplary service and can do everything from recommending local attractions to booking dinner reservations. As such, a tip is appreciated, and it should reflect the complexity of your request; think $5 for booking a table for two and $10 for scoring tickets to a sold-out show.
You can either tip after each service or offer a larger lump-sum once your stay is over, but you're most likely to get star treatment if you show your appreciation along the way.
Special delivery: $2
If you need help getting the cable to work or fixing a leaky faucet, there's no need to tip the staff. But if you call in a special request such as extra towels or a phone charger, you should give some gratuity. The AHLA recommends $2, plus another $1 for additional items.
Room service, server or bartender: 15-20 percent
Finally, you should tip anyone serving you food and drinks the same way you would at a regular restaurant or bar. If you order room service, check to make sure there isn't already gratuity added. If not, tip 15 percent of the bill for adequate service and up to 20 percent for exceptional service. The same goes for servers and bartenders.
[ad_2]

Source link
20 Percent Of Americans In Relationships Are Committing Financial Infidelity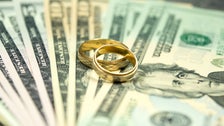 Of all the respondents, millennials were more likely than other age groups to hide financial information from their partner. While 15 percent of older generations hid accounts from their partner, 28 percent of millennials were financially dishonest.
Regionally, Americans living in the South and the West were more likely to financially "cheat" than those living in the Northeast and Midwest.
Insecurity about earning and spending could drive some of this infidelity, according to CreditCards.com industry analyst Ted Rossman.
When it comes to millennials, witnessing divorce could have caused those aged 18-37 to try and squirrel away from Rossman calls a "freedom fund".
"They've got this safety net," Rossman said. They're asking: "What if this relationship doesn't work out?"
As bad as physical infidelity
More than half (55 percent) of those surveyed believed that financial infidelity was just as bad as physically cheating. That's including some 20 percent who believed that financially cheating was worse.
But despite this, most didn't find this to be a deal breaker.
Over 80 percent surveyed said they would be upset, but wouldn't end the relationship. Only 2 percent of those asked would end the relationship if they discovered their spouse or partner was hiding $5,000 or more in credit card debt. That number however is highest among those lower middle class households ($30,000-$49,999 income bracket): Nearly 10 percent would break things off as a result.
That's why, Rossman says, it's important to share that information with your partner.
"Talking about money with your spouse isn't always easy, but it has to be done," he said. "You can still maintain some privacy over your finances, and even keep separate accounts if you and your spouse agree, but you need to get on the same page regarding your general direction, otherwise your financial union is doomed to fail."
With credit card rates hovering at an average of 19.24 percent APR, hiding financial information from a partner could be financially devastating.
But, Rossman adds, it's not just about the economic impact but also the erosion of trust.
"More than the dollars and cents is that trust factor," he said. "I think losing that trust is so hard to regain. That could be a long lasting wedge."
Kristin Myers is a reporter at Yahoo Finance. Follow her on Twitter.
7 Examples Of Terrible Financial Advice We've Heard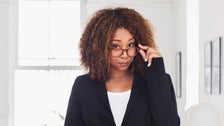 Between television, radio, the internet and well-meaning but presumptuous friends and family, we're inundated with unsolicited advice on a daily basis. And when it comes to money, there's a ton of terrible advice out there. Even so-called experts can lead us astray sometimes.
Have you been duped? Here are a few examples of the worst money advice advisers, bloggers and other personal finance pros have heard.
1. Carry a balance to increase your credit score.
Ben Luthi, a money and travel writer, said that a friend once told him that his mortgage loan officer advised him to carry a balance on his credit card in order to improve his credit score. In fact, the loan officer recommended keeping the balance at around 50 percent of his credit limit.
"This is the absolute worst financial advice I've ever heard for several reasons," Luthi said. For one, carrying a credit card balance doesn't have any effect on your credit at all. "What it does do is ensure that you pay a high interest rate on your balance every month, neutralizing any other benefits you might get from the card," Luthi explained. "Also, keeping a 50 percent credit utilization is a surefire way to hurt your credit score, not help it."
Some credit experts recommend keeping your balance below 30 percent of the card limit, but even that's not a hard-and-fast rule. Keeping your balance as low as possible and paying the bill on time each month is how you improve your score.
2. Avoid credit cards ― period.
Credit cards can be a slippery slope for some people; overspending can lead to a cycle of debt that's tough to escape.
But avoiding credit cards on principle, something personal finance gurus like Dave Ramsey push hard, robs you of all their potential benefits.
"Credit cards are a good tool for building credit and earning rewards," explained personal finance writer Kim Porter. "Plus, there are lots of ways to avoid debt, like using the card only for monthly bills, paying off the card every month and tracking your spending."
If you struggle with debt, a credit card is probably not for you. At least not right now. But if you are on top of your finances and want to leverage debt in a strategic way, a credit card can help you do just that.
3. The mortgage you're approved for is what you can afford.
"The worst financial advice I hear is to buy as much house as you can afford," said R.J. Weiss, a certified financial planner who founded the blog The Ways to Wealth. He explained that most lenders use the 28/36 rule to determine how much you can afford to borrow: Up to 28 percent of your monthly gross income can go toward your home, as long as the payments don't exceed 36 percent of your total monthly debt payments. For example, if you had a credit card, student loan and car loan payment that together totaled $640 a month, your mortgage payment should be no more than $360 (36 percent of $1,000 in total debt payments).
"What homeowners don't realize is this rule was invented by banks to maximize their bottom line ― not the homeowner's financial well-being," Weiss said. "Banks have figured out that this is the largest amount of debt one can take on with a reasonable chance of paying it back, even if that means you have to forego saving for retirement, college or short-term goals."
4. An expensive house is worth it because of the tax write-off.
Scott Vance, owner of taxvanta.com, said a real estate agent told him when he was younger that it made sense to buy a more expensive house because he had the advantage of writing off the mortgage interest on his taxes.
But let's stop and think about that for a moment. A deduction simply decreases your taxable income ― it's not a dollar-for-dollar reduction of your tax bill. So committing to a larger mortgage payment to take a bigger tax deduction still means paying more in the long run. And if that high mortgage payment compromises your ability to keep up on other bills or save money, it's definitely not worth it.
"Now, as a financial planner focusing on taxes, I see the folly in such advice," he said, noting that he always advises his client to consider the source of advice before following it. "Taking tax advice from a Realtor is … like taking medical procedure advice from your hairdresser."
5. You need a six-month emergency fund.
One thing is true: You need an emergency fund. But when it comes to how much you should save in that fund, it's different for each person. There's no cookie-cutter answer that applies to everyone. And yet many experts claim that six months' worth of expenses is exactly how much you should have socked away in a savings account.
"I work with a lot of Hollywood actors, and six months won't cut it for these folks," said Eric D. Matthews, CEO and wealth adviser at EDM Capital. "I also work with executives in the same industry where six months is overkill. You need to strike a balance for your work, industry and craft."
If you have too little saved, a major financial blow can leave you in debt regardless. And if you set aside too much, you lose returns by leaving the money in a liquid, low-interest savings account. "The generic six months is a nice catch-all, but nowhere near the specific need of the individual's unique situation… and aren't we all unique?"
6. You should accept your entire student loan package.
Aside from a house, a college education is often one of the biggest purchases people make in their lifetimes. Often loans are needed to bridge the gap between college savings and that final tuition bill. But just because you're offered a certain amount doesn't mean you need to take it all.
"The worst financial advice I received was that I had to accept my entire student loan package and that I had no other options," said Gina Zakaria, founder of The Frugal Convert. "It cost me a lot in student loan debt. Now I tell everyone that you never have to accept any part of a college financial package that you don't want to accept." There are always other options, she said.
7. Only invest in what you know.
Even the great Warren Buffett, considered by many to be the best investor of all time, gets it wrong sometimes. One of his most famous pieces of advice is to only invest in what you know, but that might not be the right guidance for the average investor.
In theory, it makes sense. After all, you don't want to tie up your money in overly complicated investments you don't understand. The problem is, most of us are not business experts, and it's nearly impossible to have deep knowledge of hundreds of securities. "Diversification is key to a good portfolio, and investing in what you know leads to a very un-diversified portfolio," said Britton Gregory, a certified financial planner and principal of Seaborn Financial. "Instead, invest in a well-diversified portfolio that includes many companies, even ones you've never heard of."
How To See What Facebook, Google, And Twitter Know About You
Facebook CEO Mark Zuckerberg wants you to know that your data is important to his company. In a Wall Street Journal op-ed published Thursday evening, Zuckerberg laid out why Facebook collects data to use for advertisements, and how it lets you control that information.
Zuckerberg's op-ed comes at an important moment. In a recent Pew Research Center survey, 74 percent of Facebook users said they had no idea that the company categorizes their interests based on their actions on the social network.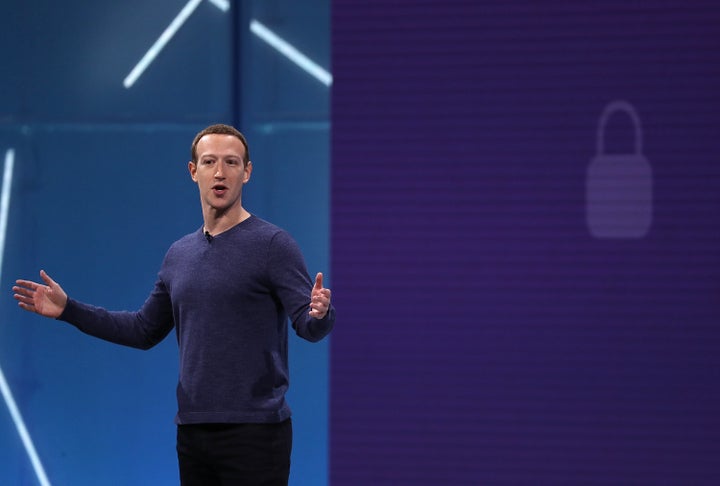 Facebook isn't the only company that creates these kinds categorizations. Google and Twitter follow the same formula. Thankfully, the three companies also offer you a means to see how these services view you, and let you opt out of having your data used at all.
How Facebook follows you
If you're a Facebook user and want to see what the company thinks it knows about you, follow these instructions:
From your desktop, navigate to Facebook.com and click the arrow in the top right corner of the screen. Select "Settings" from the dropdown menu and click "Ads" toward the bottom left of the screen.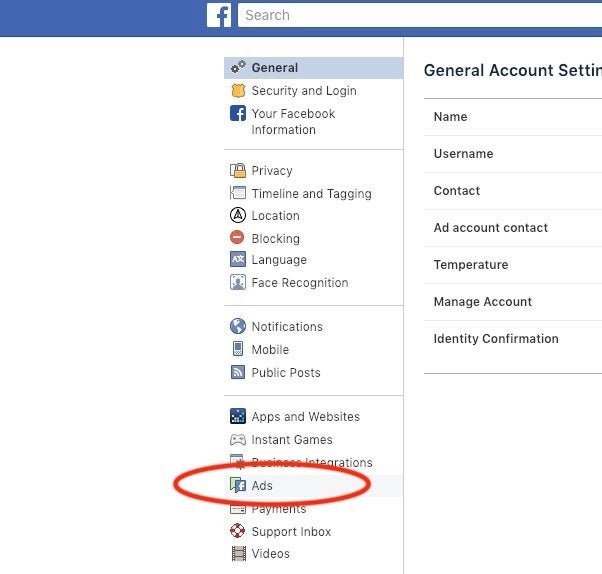 From there you'll be taken to the "Your Ad Preferences" page where you can see interests and advertisers associated with your account. Click on the "Your Information" tab and then select "Your Categories."
These are the categories Facebook believes best match you. It can include your marital status, whether you use Gmail, if you travel frequently, the type of devices you use to access Facebook, and more. Using my profile and habits, Facebook was able to determine I'm a technology early adopter, that I am a commuter, that I recently changed my smartphone, and that I'm a gamer.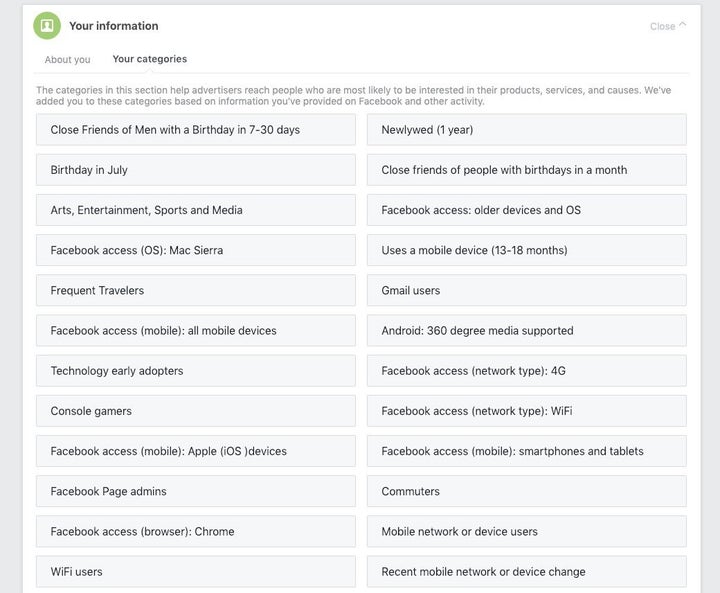 None of that is exactly top-secret information. I assumed Facebook knew at least that much about me if not more.
If you're so inclined, you can delete these categories by clicking the "X" icon in the top right corner of each category box. You can also turn off custom ads by clicking the "Ad Settings" tab and changing "Allowed" to "Not Allowed" under the "Ads based on data from providers" and "Ads based on your activity on Facebook Company Products that you see elsewhere."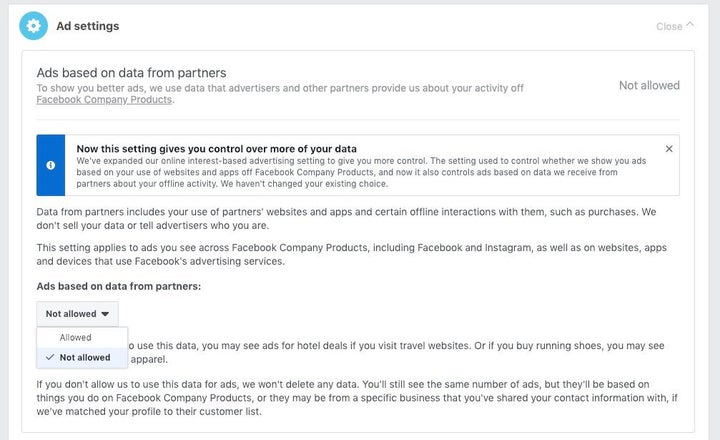 You can also ensure that Facebook doesn't use your social actions in any ads. For example, if you like a page for a movie, your friends may see ads for the movie indicating that you liked it. To turn that feature off, click "Ads that include your social actions" and change the dialogue to "No one."
Checking your Google account
Like Facebook, Google assigns you with specific categories it believes align with your interests. But Google's list is far more comprehensive than Facebook's, ensuring it shows the most pertinent ads. Google also has the ability to scoop up information from you from a whole host of services ranging from your search history to the YouTube videos you watch and locations you look for in Google Maps.
To see how Google categorizes you, navigate to Gmail in your browser, click on your account image in the upper right corner of the screen and select "Google Account." Choose "Data and personalization" on the left rail, scroll down to "Ad Personalization" and click "Go to ad settings."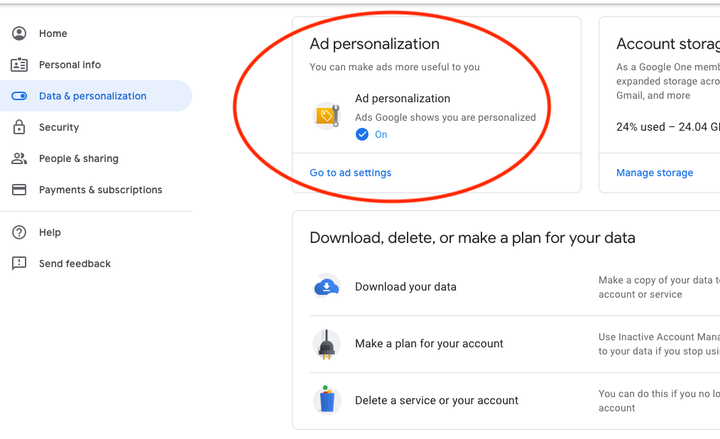 From here you'll be able to see every category Google believes interests you and how it reached that conclusion, whether that was through web searches or YouTube videos.
You can turn off ad personalization from the top of the screen to ensure Google doesn't use your information for ads, but that doesn't mean it won't still track what you do. To turn that off, you'll need to go back to your Google account homepage and select "Data and personalization" from the left rail.
Scroll down to "Activity controls" and choose "Manage your activity controls." This is where you can see the kind of detailed information Google has saved about you, including where you've been around the world, what Google Docs you've accessed, and which voice searches you've performed.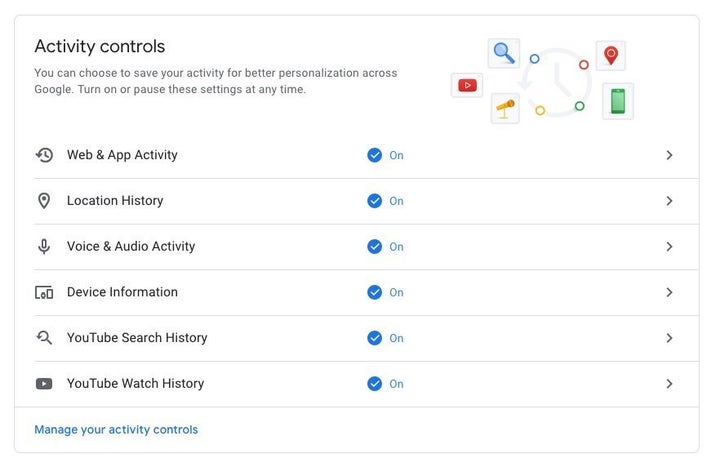 It gets to be a little creepy when you realize how far back all of this information goes. I haven't been to Germany in almost six years, but Google still has that data.
If you don't want Google to collect this kind of information, you can turn off each setting by adjusting the slider next to each category.
Twitter's data tracking
As with any other free social network, Twitter collects on its users. To see what Twitter has on you, log into your account on your desktop, click your profile icon in the top right corner of the screen, select "Settings and privacy," and then click "Your Twitter data."
Scroll down to "Interest and ads data" and choose "See all." You'll then see a list of the inferred interests Twitter has matched to your account.
If you want to ensure Twitter doesn't collect such data, you can disable the app's controls by clicking on your profile icon, selecting "Settings and privacy" and clicking "Privacy and safety."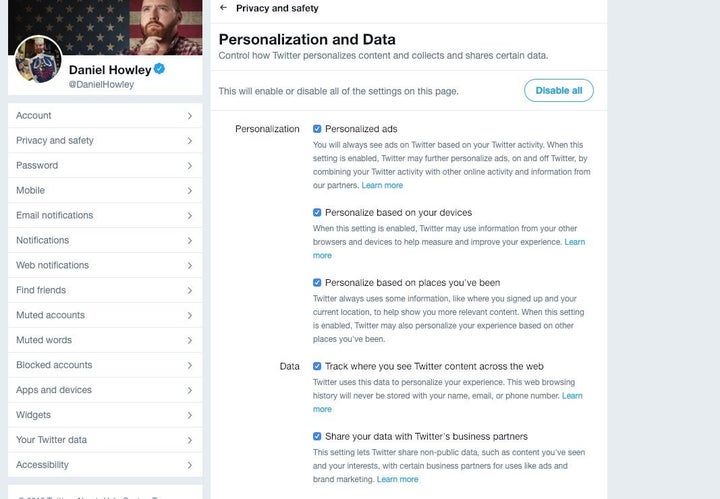 Scroll to "Personalization and Data" and click "Edit." From here you can choose to individually disable how Twitter uses your data, or simply turn the features off completely.