Jamie Dimon, Steve Mnuchin And Wall Street CEOs Set To Attend Saudi Conference Despite Journalist's Disappearance
[ad_1]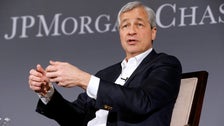 Even amid reports that agents for Saudi Arabia's Crown Prince Mohammed bin Salman brazenly killed a Saudi journalist working for The Washington Post, some of the world's richest and most influential business, media and political figures still plan to attend a Saudi-sponsored schmoozefest in Riyadh this month.
U.S. Treasury Secretary Steve Mnuchin, JPMorgan Chase CEO Jamie Dimon and International Monetary Fund Managing Director Christine Lagarde plan to attend the event, the second annual Future Investment Initiative, scheduled for Oct. 23 through 25. It is a government-backed conference bankrolled by the country's sovereign wealth fund.
On the agenda at what has been dubbed Davos in the Desert, after a similar gathering of elites every winter in Switzerland, are the sorts of topics beloved by the globe-trotting superrich. "Investing in transformation," "technology as opportunity" and "advancing human potential" are listed as the conference's broad themes. The real attraction, to be sure, is the promise of lucrative deals with the Saudi government.
HuffPost reached out to over a dozen companies and individuals set to speak at, sponsor or attend the conference. Only a handful, including The New York Times and The Economist (both media sponsors of the conference), said they had pulled out in light of recent events. CNN, Bloomberg and CNBC, also sponsors, later ended their involvement as well.
Arianna Huffington, who sits on Uber's board and runs a consulting firm called Thrive Global, said through a spokeswoman she would no longer attend. (Huffington is no longer affiliated with HuffPost.) 
Uber CEO Dara Khosrowshahi announced late Thursday evening that he would not be going. "I'm very troubled by the reports to date about Jamal Khashoggi," Khosrowshahi said in a statement. "We are following the situation closely, and unless a substantially different set of facts emerges, I won't be attending the FII conference in Riyadh."
Mellody Hobson, the president of Ariel Investments, resigned from the FII advisory board on Thursday. Steve Case, co-founder of AOL and head of the Case Foundation, tweeted on Thursday that he would be putting his plans to attend on hold pending further information about Khashoggi. 
On Friday, a spokeswoman for Rob Lloyd, the CEO of Virgin Hyperloop One, said that he was dropping out of the event, according to a report in Axios.
Fox Business Network — another media sponsors of the event — said they were monitoring the situation. Nikkei, a Japanese conglomerate that owns The Financial Times, did not respond to a request for comment, though the newspaper reportedly said it, too, was monitoring the situation.
In another change to the FII event, the section of its website listing the conference program removed the names of all executives participating in panels. It is unclear whether those executives still plan to attend.
Others didn't respond to HuffPost's queries, including investment firms Blackstone, BlackRock and TPG Capital; and former Gen. David Petraeus, currently the chairman of investment firm KKR. (See below for a list of attendees.)
It's perhaps not surprising that so many companies are sticking with Saudi Arabia, since the White House has so far been unwilling to condemn Mohammed for human rights abuses, including the alleged killing of Khashoggi, who disappeared on Oct. 2. He was last seen entering the Saudi Consulate in Istanbul and has not been seen in public since.
A senior Turkish official told The New York Times that a team of Saudi agents killed him and then dismembered his body with a bone saw. However, those reports have not yet been confirmed.
The Saudi government has reportedly been unhappy with Khashoggi's columns, which were critical of the country's recent policies.
The White House has so far given a muted response, with President Donald Trump saying he has discussed the case with Saudi leadership but little else. It's unclear if the U.S. government plans to introduce any punitive measures against the Saudi government, with which Trump and his family have developed extensive ties in recent years.
Khashoggi's alleged killing was predated by a string of rights abuses and warning signs of the Saudi government's willingness to use violence. The FII is being held at the same Ritz-Carlton that Mohammed turned into a makeshift jail during a crackdown late last year, in which the government rounded up hundreds of political and business elites on thin corruption charges. After they were released, some detainees spoke of beatings and constant threats.
Mohammed's crackdown went beyond his mass sweep at the Ritz, extending to human rights proponents and dissidents, including prominent women's rights activists. In a bizarre incident last December, the Saudi government essentially kidnapped Lebanon's Prime Minister Saad al-Hariri. Saudi Arabia has fiercely contested any international pushback — for example, demolishing its relations with Canada over the summer in response to a fairly milquetoast Canadian statement on the arrest of human rights activists.
Then there is the brutal ongoing Saudi-led military offensive in Yemen, which is one of the deadliest facets of a civil war that has killed thousands of civilians. Saudi bombings have resulted in hundreds of civilian casualties. In August alone, a Saudi airstrike killed 40 young children after one of its U.S.-supplied bombs hit a school bus.
Here is a list of the individuals HuffPost has reached out to who are slated to attend the event:
David Bonderman, chairman and founding partner, TPG Capital

Jamie Dimon, CEO, JPMorgan Chase

Larry Fink, chairman and CEO, BlackRock Inc.

John M. Flint, executive director and group chief executive, HSBC Holdings PLC

Christine Lagarde, managing director, International Monetary Fund

Jean Lemierre, chairman, BNP Paribas

Kanetsugu Mike, president and CEO, MUFG Bank Ltd.

Steven Mnuchin, secretary, U.S. Treasury

Lubna S. Olayan, CEO and deputy chairperson, Olayan Financing Co.

David Petraeus, chairman, KKR

Jeremy Weir, executive chairman and CEO, Trafigura Group Pte. Ltd.

Stephen Schwarzman, CEO, Blackstone

Peter Thiel, partner, Founders Fund
Alexander Kaufman contributed reporting to this article.
This story has been updated to note that Uber CEO Dara Khosrowshahi, Case Foundation chairman Steve Case, Virgin Hyperloop CEO Rob Lloyd, CNN and CNBC will not attend the Saudi conference.
[ad_2]

Source link
Ontario's new automated speed enforcement explained
(NC) To wage the war against speeding, many municipalities across Ontario have turned to automated speed enforcement. Most recently introduced in Toronto, speed cameras are a high-tech solution to reduce speeding and are considered one of the most effective ways to create safer roads and save lives.  
Recognizing police officers cannot catch all speeders, these cameras fill the gap, providing monitoring in specific locations around the clock. When a car's speed is even one kilometre over the posted amount, it will take a picture of the offending vehicle's license plate, using the captured photo as indisputable evidence. A ticket is then served to the vehicle's owner, regardless of who was driving. 
With a focus on high-risk areas, Ontario's automated speed enforcement cameras are located in two specific municipal areas: school and community safety zones. School zones are designated streets close to a school, featuring reduced speed limits as dictated by local bylaws. Community safety zones are high-risk corridors and intersections, subject to increased fines and penalties.  
While the Ontario Highway Traffic Act outlines the use of automated speed enforcement, municipalities can decide when and where to use cameras to curb speeding. The act does dictate financial penalties for speed violations captured with cameras, which vary depending on the number of kilometres caught over the speed limit.  
Speed enforcement is not new, but part of a broader, integrated road safety strategy that includes infrastructure improvements, awareness campaigns and new uses of technology. City officials hope for a halo effect, inspiring better driving behaviour across entire communities, not only in areas with cameras. A controversial topic, some critics take exception to speed cameras, labelling them as sneaky cash grabs for municipalities. Governments think the opposite. 
Safety advocate and auto insurance provider Onlia is hopeful that the cameras will provide drivers with a reminder to slow down, especially in high-risk areas like school and community safety zones.  
"For those who obey the speed limit, automated speed enforcement shouldn't change anything about your driving style," says Alex Kelly, Safety Ambassador at Onlia. "Drivers have fair warning as they approach areas with speed cameras, as mandatory signs provide reasonable notice of upcoming automated speed enforcement. Regardless of warnings, the best speed is the posted speed." 
You can start to understand your speeding style by downloading the insurance provider's new safe driving app that coaches and rewards for you for safe driving habits.
Online banking: How to protect yourself from fraud
(NC) Since the start of the COVID-19 crisis, a growing number of consumers are regularly using mobile and online banking to paybill payments, transfer money and make purchases.
Although these tools can give you easy access to your personal finances on demand, there are also some risks involved. For instance, your banking information—such as your debit or credit card number, user name, or personal identification number (PIN)—could be stolen. If criminals have access to your online banking information, they can steal your money, which is why it's so important to be  vigilant when you bank online.
Follow these tips to help protect your personal and banking information:
For your online bank accounts, use a strong password that can't be easily guessed, and never share your user name or password with anyone.
Check your accounts regularly to make sure there are no transactions you didn't make or authorize.
When making online purchases, never authorize a website to save your credit card information, password or other personal information. Giving websites this permission will save you some time the next time you access the site, but it poses a real threat if a hacker manages to access your information.
Most financial institutions have policies to protect you from transactions that you didn't make.
However, you are responsible for protecting your online and mobile banking information. If you give your details to anyone—including your spouse or partner, a family member or a friend—your financial institution may hold you responsible for any unauthorized transactions in your account, and even strip you of protection from unauthorized transactions in the future.
If you suspect your information may have been compromised, change your passwords immediately, and check your account and credit card statements for anomalies and report any suspicious transactions to your financial institution.
The Financial Consumer Agency of Canada has created resources to help you protect your online banking information.
Payday loans: Not the best way to borrow money
(NC) Payday loans are a very expensive way to borrow money. Even if you're struggling financially, think twice—and crunch the numbers—before getting this type of loan.
Depending on the rules in your province, payday lenders can charge fees of $15 to $25 per $100 that you borrow.
As an example, let's say you borrow $300 for home repairs. The payday lender charges you $51 in fees, or $17 for every $100 borrowed. Your loan balance is therefore $351, which amounts to an interest rate of 442 per cent.
There can be serious consequences if you don't repay your loan by the due date. These may include the following:
The payday lender may charge you a fee if there isn't enough money in your account.
Your financial institution may also charge you a fee if there isn't enough money in your account.
The total amount that you owe, including the fees, continues to increase.
There are better options out there
Payday loans should be your last resort to borrow money. Consider cheaper ways of borrowing money, such as:
Cashing in vacation days or asking for a pay advance from your employer.
Getting a line of credit, a cash advance on a credit card or a personal loan from your financial institution.
Getting a loan from family or friends.
Before getting a payday loan and to avoid getting stuck in a debt trap, consider other, less expensive ways to borrow money.