Federal Reserve Raises Interest Rates For The 3rd Time This Year
[ad_1]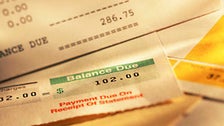 WASHINGTON (AP) — The Federal Reserve signaled its confidence Wednesday in the U.S. economy by raising a key interest rate for a third time this year, forecasting another rate hike before year's end and predicting that it will continue to tighten credit into 2020 to manage growth and inflation.
The Fed lifted its short-term rate — a benchmark for many consumer and business loans — by a modest quarter-point to a range of 2 percent to 2.25 percent. It was its eighth hike since late 2015. The central bank also stuck with a previous forecast for three more rate hikes in 2019.
In a statement after its latest policy meeting, the Fed dropped phrasing it had long used that characterized its policy as "accommodative" — that is, favoring low rates. The Fed had used variations of that pledge in the seven years that it kept its key rate at a record low near zero and over the past nearly three years in which it's gradually tightened credit.
By removing that language, the Fed may be signaling its resolve to keep raising rates. In a news conference after its meeting, though, Chairman Jerome Powell said the removal of the "accommodative" language did not amount to a policy change.
"Our economy is strong," Powell declared at the start of his news conference. "Growth is running at a healthy clip, unemployment is low. The number of people working is rising steadily, and wages are up. Inflation is low and stable, all of these are very good signs."
The chairman added, though: "That's not to say everything is perfect. The benefits of this strong economy have not reached all Americans. Many of our country's economic challenges are beyond the scope of the Fed."
The Fed's actions and its updated economic forecasts Wednesday had been widely anticipated. Initially, there was little reaction in the stock or bond markets. But later in the afternoon, stocks sold off, and major indexes closed modestly lower.
"The Fed stuck to script today, pushing ahead with another rate hike," said Michael Pearce, senior U.S. economist at Capital Economics.
But Pearce added, "Our view is that officials are still underestimating just how quickly the economy is likely to lose momentum next year."
He said he expects the Fed to suspend its rate hikes by mid-2019 — and then feel compelled to cut rates by early 2020 to support the economy.
In its updated outlook Wednesday, the Fed foresees one final rate hike after 2019 — in 2020 — which would leave its benchmark at 3.4 percent. At that point, it would regard its policy as modestly restraining growth. The Fed seeks to slow the economy when it reaches full employment to prevent a tight job market from raising inflation too high.
During a late-afternoon news conference in New York, President Donald Trump said he was "not happy" about the Fed's latest rate hike. In a highly unusual move for a president, Trump has publicly complained that the Fed's rate increases could blunt his efforts to boost growth through tax cuts and deregulation.
Earlier, Powell said during his news conference that such outside criticism would have no effect on the Fed's use of rates to try to maximize employment and stabilize prices.
"We've been given a really important job to do on behalf of the American people," Powell said. "My colleagues and I are focused, exclusively, on carrying out that mission."
The Fed's latest forecast predicts that the unemployment rate, now 3.9 percent, will reach 3.7 percent by the end of this year and then 3.5 percent next year. Not since the late 1960s has unemployment fallen that low.
The central bank expects unemployment to begin rising to 3.7 percent at the end of 2021. It foresees the economy growing 3.1 percent this year before slowing to 2.5 percent in 2019, 2 percent in 2020 and 1.8 percent in 2021. The Fed sees the economy's long-run growth at a 1.8 percent annual rate — far below the Trump administration's projections for a sustained rate of 3 percent.
Many analysts think the economy could weaken next year, in part from the effects of the trade conflicts Trump has pursued with China, Canada, Europe and other trading partners. The tariffs Trump has imposed on imported steel and Chinese goods, in particular, complicate the Fed's decision-making.
That's because the tariffs — and the resulting retaliation from America's trading partners — could weaken the U.S. economy. The Fed would normally respond to weaker growth by cutting interest rates. But tariffs, which are an import tax, can inflate prices. And the Fed typically counters higher inflation by raising rates.
Megan Greene, global chief economist at Manulife Asset Management, said she thought the tariffs were more likely to slow the economy than to accelerate inflation.
"The real risk of trade wars," Greene wrote last week, "is a hit to growth, not a boost to inflation."
Indeed, the Fed's regional banks have reported that some businesses are delaying investments until they see some resolution to the trade hostilities. In his news conference, Powell said some companies have told Fed officials that the tariffs have raised fears that supply chains will be disrupted and raw materials will cost more.
Powell said he had yet to see evidence that the administration's tariffs have raised prices for many consumers. But he said rising inflation remains a threat resulting from Trump's trade policies.
"It's a concern," Powell said. "It's a risk. You could see prices moving up. You don't see it yet. But you could see retail prices moving up. The tariffs might provide a basis for companies to raise prices in a world where they've been very reluctant to and unable to raise prices."
[ad_2]

Source link
Ontario's new automated speed enforcement explained
(NC) To wage the war against speeding, many municipalities across Ontario have turned to automated speed enforcement. Most recently introduced in Toronto, speed cameras are a high-tech solution to reduce speeding and are considered one of the most effective ways to create safer roads and save lives.  
Recognizing police officers cannot catch all speeders, these cameras fill the gap, providing monitoring in specific locations around the clock. When a car's speed is even one kilometre over the posted amount, it will take a picture of the offending vehicle's license plate, using the captured photo as indisputable evidence. A ticket is then served to the vehicle's owner, regardless of who was driving. 
With a focus on high-risk areas, Ontario's automated speed enforcement cameras are located in two specific municipal areas: school and community safety zones. School zones are designated streets close to a school, featuring reduced speed limits as dictated by local bylaws. Community safety zones are high-risk corridors and intersections, subject to increased fines and penalties.  
While the Ontario Highway Traffic Act outlines the use of automated speed enforcement, municipalities can decide when and where to use cameras to curb speeding. The act does dictate financial penalties for speed violations captured with cameras, which vary depending on the number of kilometres caught over the speed limit.  
Speed enforcement is not new, but part of a broader, integrated road safety strategy that includes infrastructure improvements, awareness campaigns and new uses of technology. City officials hope for a halo effect, inspiring better driving behaviour across entire communities, not only in areas with cameras. A controversial topic, some critics take exception to speed cameras, labelling them as sneaky cash grabs for municipalities. Governments think the opposite. 
Safety advocate and auto insurance provider Onlia is hopeful that the cameras will provide drivers with a reminder to slow down, especially in high-risk areas like school and community safety zones.  
"For those who obey the speed limit, automated speed enforcement shouldn't change anything about your driving style," says Alex Kelly, Safety Ambassador at Onlia. "Drivers have fair warning as they approach areas with speed cameras, as mandatory signs provide reasonable notice of upcoming automated speed enforcement. Regardless of warnings, the best speed is the posted speed." 
You can start to understand your speeding style by downloading the insurance provider's new safe driving app that coaches and rewards for you for safe driving habits.
Online banking: How to protect yourself from fraud
(NC) Since the start of the COVID-19 crisis, a growing number of consumers are regularly using mobile and online banking to paybill payments, transfer money and make purchases.
Although these tools can give you easy access to your personal finances on demand, there are also some risks involved. For instance, your banking information—such as your debit or credit card number, user name, or personal identification number (PIN)—could be stolen. If criminals have access to your online banking information, they can steal your money, which is why it's so important to be  vigilant when you bank online.
Follow these tips to help protect your personal and banking information:
For your online bank accounts, use a strong password that can't be easily guessed, and never share your user name or password with anyone.
Check your accounts regularly to make sure there are no transactions you didn't make or authorize.
When making online purchases, never authorize a website to save your credit card information, password or other personal information. Giving websites this permission will save you some time the next time you access the site, but it poses a real threat if a hacker manages to access your information.
Most financial institutions have policies to protect you from transactions that you didn't make.
However, you are responsible for protecting your online and mobile banking information. If you give your details to anyone—including your spouse or partner, a family member or a friend—your financial institution may hold you responsible for any unauthorized transactions in your account, and even strip you of protection from unauthorized transactions in the future.
If you suspect your information may have been compromised, change your passwords immediately, and check your account and credit card statements for anomalies and report any suspicious transactions to your financial institution.
The Financial Consumer Agency of Canada has created resources to help you protect your online banking information.
Payday loans: Not the best way to borrow money
(NC) Payday loans are a very expensive way to borrow money. Even if you're struggling financially, think twice—and crunch the numbers—before getting this type of loan.
Depending on the rules in your province, payday lenders can charge fees of $15 to $25 per $100 that you borrow.
As an example, let's say you borrow $300 for home repairs. The payday lender charges you $51 in fees, or $17 for every $100 borrowed. Your loan balance is therefore $351, which amounts to an interest rate of 442 per cent.
There can be serious consequences if you don't repay your loan by the due date. These may include the following:
The payday lender may charge you a fee if there isn't enough money in your account.
Your financial institution may also charge you a fee if there isn't enough money in your account.
The total amount that you owe, including the fees, continues to increase.
There are better options out there
Payday loans should be your last resort to borrow money. Consider cheaper ways of borrowing money, such as:
Cashing in vacation days or asking for a pay advance from your employer.
Getting a line of credit, a cash advance on a credit card or a personal loan from your financial institution.
Getting a loan from family or friends.
Before getting a payday loan and to avoid getting stuck in a debt trap, consider other, less expensive ways to borrow money.